"Godly Sorrow – Worldly Sorrow"
---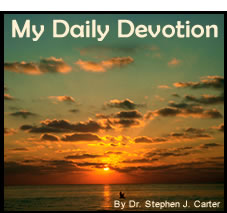 Godly sorrow brings repentance that leads to salvation and leaves no regret, but worldly sorrow brings death. 2 Corinthians 7:10
Sin brings sorrow every time. The immediate result may appear exciting, enjoyable, even exhilarating. But in the long run there is guilt and anxiety. Worldly sorrow over sin seeks superficial ways to deal with guilt. We try to blame others. We insist that everyone else does the same thing. We try to make up for sin by doing something good. Worldly sorrow leads to death.

Paul talks about godly sorrow. He writes to the Corinthians, "Godly sorrow brings repentance that leads to salvation and leaves no regret." The Corinthians had sinned in many ways. Paul confronts them with their sin in his First Letter. Initially, they seemed reluctant to listen to his admonition. They displayed only a worldly sorrow.

But in these verses Paul rejoices. A visit by Titus has revealed that God has worked true repentance in their hearts. No longer covering up, they admit their sin and turn to Jesus for forgiveness. Relying on His mercy, their sorrow has produced earnestness, eagerness to be cleared, indignation over wrongdoing, longing to see the wrongs righted, and genuine concern. "Godly sorrow … leads to salvation."

God addresses each of us through Paul. Are we dealing with our sin by worldly sorrow, striving desperately to cover up and avoid the truth? Or do we open our lives to the Word of God, admitting our guilt and applying to ourselves the full forgiveness of Christ, won on the cross? "Godly sorrow brings repentance that leads to salvation."

PRAYER: Lord, open my heart to sorrow over my sin so that I may receive Your free forgiveness. Amen.

(Devotions from "My Daily Devotion" by Dr. Stephen J. Carter, copyright 1988 CPH. All Rights Reserved. No part of this publication may be printed, reproduced, stored in a retrieval system, or transmitted, in any form or by any means, electronic, mechanical, photocopying, recording or otherwise, without prior written permission of Concordia Publishing House. Permission is granted for one-time emailing of this link to a friend. For ordering information, please contact CPH at 800-325-3040 or visit www.cph.org.)

Today's Bible Readings: 1 Chronicles 10-12 1 Corinthians 8
To Download Devotion MP3 to your computer, right click here and select "Save Link As" or "Save Target As" or "Download Linked File As"