"A Driving Force"
---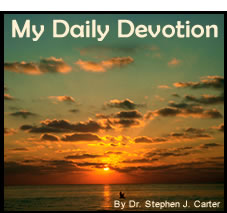 For Christ's love compels us, because we are convinced that one died for all. 2 Corinthians 5:14
What causes people to climb formidable mountains, explore unknown frontiers, and push on toward new scientific discoveries? What motivates us to condition our bodies, fight for a higher rung on the career ladder, and struggle to accumulate wealth? Driving forces within us. All too often these driving forces are desire for recognition, greed, and lust for success. At root selfishness and pride.

But Paul describes a far more powerful and helpful motivation. This driving force led the apostles to travel the world, testify boldly, face natural obstacles, persecution, and death itself. They continued loving their enemies, helping ungrateful churches, and clearly proclaiming Jesus Christ as the only way to salvation. What driving force motivated the apostles to lay aside self-interest and greed? Paul simply says, "Christ's love compels us, because we are convinced that one died for all." Paul knew that Jesus went to the cross to pay for the world's sin. Not interested in personal gain and only wanting to obey the Father, Jesus loved us to the death. Overwhelmed by His love, Paul lived boldly and joyfully because Christ's love compelled him.

Thank God for the driving force of Christ's love! We confess our selfish drives and rest in the forgiving love of the Savior. We look to the cross and see the Christ, compelled by love to hang there for us. We soak in His love through Word and sacraments, daily offering His forgiveness. Then we rise to face the challenges of the day – people to love, goals to reach for Him, opportunities for Christian witness. And without striving or struggling, we realize that Christ's love moves us to willing and joyful action. What a driving force!

PRAYER: Lord, thanks for Your saving love, which compels us to serve You! Amen.

(Devotions from "My Daily Devotion" by Dr. Stephen J. Carter, copyright 1988 CPH. All Rights Reserved. No part of this publication may be printed, reproduced, stored in a retrieval system, or transmitted, in any form or by any means, electronic, mechanical, photocopying, recording or otherwise, without prior written permission of Concordia Publishing House. Permission is granted for one-time emailing of this link to a friend. For ordering information, please contact CPH at 800-325-3040 or visit www.cph.org.)

Today's Bible Readings: 1 Chronicles 4-6 1 Corinthians 7:1-19
To Download Devotion MP3 to your computer, right click here and select "Save Link As" or "Save Target As" or "Download Linked File As"