"Spiritual Dryness"
---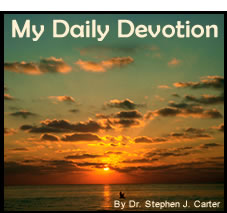 O God, You are my God, earnestly I seek You; my soul thirsts for You, my body longs for You, in a dry and weary land where there is no water. Psalm 63:1
An old song describes the desert traveler as longing for "cool, clear water." In the old West, desert travel was perilous – hot, dry, dusty conditions, miles and miles of wilderness, prickly cactus, volcanic rock, precious canteens of water for horses and travelers, scarce water holes, sometimes empty, sometimes filled with brackish water, the body dehydrated, weary, tested beyond human endurance. The utter gratitude for reaching journey's end and drinking an unlimited supply of cool, clear water!

In today's psalm verse the writer uses this desert imagery to describe spiritual dryness. David knew the meaning of desert travel from his experiences in fleeing from Saul. He had endured physical thirst and desperation. Here he applies these physical realities to his spiritual thirst for God. Alone, rejected, hopeless, discouraged, he wants a close relationship with the God of Abraham, Isaac, and Jacob, "the spring of living water" (Jeremiah 2:13).

Do you know the reality of spiritual dryness? Have you felt isolated from God? Troubled on the job, in your family, perhaps even in your church, you wander around desperately seeking a drink of cool, clear water. But you are alone, with a punctured canteen. You cry out to God, but He does not seem to hear. You are spiritually exhausted. You can barely face the next day with its people, problems, and demands. You try to live on what you have within, but your mouth is dry and parched. From time to time you think you see a lake of water ahead, only to discover a mirage. Spiritual dryness has overwhelmed you. Where is God's cool, clear, thirst-quenching refreshment?

Come to Jesus, the Living Water!

PRAYER: Lord Jesus, I am spiritually dry. Let me drink your life-giving water. Amen.

(Devotions from "My Daily Devotion" by Dr. Stephen J. Carter, copyright 1988 CPH. All Rights Reserved. No part of this publication may be printed, reproduced, stored in a retrieval system, or transmitted, in any form or by any means, electronic, mechanical, photocopying, recording or otherwise, without prior written permission of Concordia Publishing House. Permission is granted for one-time emailing of this link to a friend. For ordering information, please contact CPH at 800-325-3040 or visit www.cph.org.)

Today's Bible Readings: Psalms 147-148 1 Corinthians 4
To Download Devotion MP3 to your computer, right click here and select "Save Link As" or "Save Target As" or "Download Linked File As"