"Leaping"
---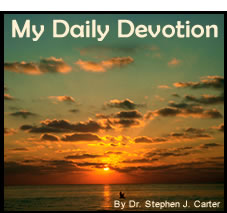 "Rejoice in that day and leap for joy, because great is your reward in heaven. For that is how their fathers treated the prophets." Luke 6:23
Leaping provides a more strenuous form of physical exercise. Aerobic dancing features leaps into the air along with stretching and jogging in place. Long jumping, high jumping, and pole vaulting take great conditioning and muscles in the legs like coiled springs. Leaping ability helps greatly in basketball, football, and baseball.

The spiritual aerobics parallel to leaping with joy connotes a somewhat different imagery, though difficult to achieve. We think of happy reunions or jubilant football or basketball players after a victory leaping for joy. What makes Jesus' words so difficult is His point of reference. He has been describing the inevitable persecutions which will come to faithful believers. "Blessed are you when men hate you, when they exclude you and insult you and reject your name as evil, because of the Son of Man" (Luke 6:22).

What a challenge – to leap for joy when we are being hated and rejected because of our faith in Jesus. On our own, we cannot leap in such circumstances. We have no spring in our step or joy in our heart. But Jesus "for the joy set before Him endured the cross, scorning its shame" (Hebrews 12:2). He brings forgiveness and new life to us with the promised great reward in heaven by His grace alone. We can join the lame man healed by Peter and John outside the temple, "walking and jumping, and praising God" (Acts 3:8). We can exclaim with the psalmist, "My heart leaps for joy and I will give thanks to Him in song" (Psalm 28:7).

PRAYER: Thank You, Jesus, for being with us when we experience persecution and ridicule for our faith. Help us to feel joyful and give You praise in all circumstances. Amen.

(Devotions from "My Daily Devotion" by Dr. Stephen J. Carter, copyright 1988 CPH. All Rights Reserved. No part of this publication may be printed, reproduced, stored in a retrieval system, or transmitted, in any form or by any means, electronic, mechanical, photocopying, recording or otherwise, without prior written permission of Concordia Publishing House. Permission is granted for one-time emailing of this link to a friend. For ordering information, please contact CPH at 800-325-3040 or visit www.cph.org.)

Today's Bible Readings: Psalms 93-95 Philippians 4
To Download Devotion MP3 to your computer, right click here and select "Save Link As" or "Save Target As" or "Download Linked File As"