"Complacent?"
---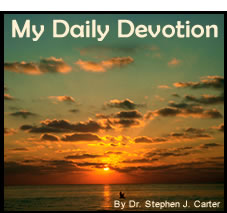 Woe to you who are complacent in Zion, and to you who feel secure on Mount Samaria. Amos 6:1
Last year's World Series champion often struggles to win again. So easy to rest on past accomplishments! Complacency. Top management sometimes relaxes after climbing the corporate ladder and coasts toward retirement. Disastrous results. Complacency. Confirmed Christians frequently take it easy in worship attendance, Bible study, witness, and service. Their relationship with God and with other believers begins to slip. Complacency.

The prophet Amos writes to both Judah and Israel with a bold message against complacency. He describes their lives of ease – lying on beds inlaid with ivory, dining on choice lambs and fattened calves, strumming away on harps, and drinking wine by the bowlful while both countries, wicked and rebellious, are headed for destruction. Amos condemns their pride and self-satisfaction. He calls them to repentance and trust in the promised Messiah.

Amos' words rock our complacency as well. We drift away from God and His Word, filling our lives with trivialities and selfish pursuits. We forget about God's plan for the world and our key missionary role in that plan. Complacency shattered by the reality of God's judgment, we turn to the One who came for us, always intent on His saving mission. Never complacent about the father's plan or the opposition of Satan, He went to the cross and finished the work of paying for our sins. Even now He hears and forgives. And we, complacent no more, live for His purposes.

PRAYER: O Lord, help me to keep alert and not be complacent in my devotion to You. Amen.

(Devotions from "My Daily Devotion" by Dr. Stephen J. Carter, copyright 1988 CPH. All Rights Reserved. No part of this publication may be printed, reproduced, stored in a retrieval system, or transmitted, in any form or by any means, electronic, mechanical, photocopying, recording or otherwise, without prior written permission of Concordia Publishing House. Permission is granted for one-time emailing of this link to a friend. For ordering information, please contact CPH at 800-325-3040 or visit www.cph.org.)

Today's Bible Readings: Amos 1-3 Acts 15:22-41
To Download Devotion MP3 to your computer, right click here and select "Save Link As" or "Save Target As" or "Download Linked File As"