"Lesson from a Robin"
---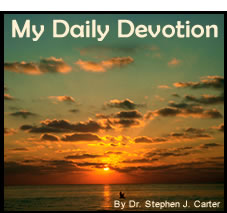 "How often I have longed to gather your children together, as a hen gathers her chicks under her wings." Matthew 23:37
Right outside our patio doors I see a robin sitting on her nest, warming two turquoise eggs. How protective the robins are against any intrusions! They guard their turf and fly away at the smallest noise to distract any threat to their young. How painstakingly the nest was built and how lovingly food is gathered!

Jesus on His way to the cross cries out pleading to Jerusalem, which has killed the prophets, "How often have I longed to gather your children together, as a hen gathers her chicks under her wings, but you were not willing." He loves like a hen and offers warmth, comfort, and protection under His sheltering wings. Jerusalem rejected Him and nailed Him to a cross. But He never stopped loving them.

He cries out to us as well. The world threatens to destroy us. Enemies lurk everywhere in the shadows. We live vulnerable lives, however self-sufficient we consider ourselves. Often we reject the advances of the mother hen. But God continues to love us. That death on the cross availed for our sins. Repentant, we find ourselves securely gathered under the protecting wings of the Savior. Nourished and cared for, we grow and gain strength to live for Him in a dangerous world.

PRAYER: Lord Jesus, guard and protect me from all harm and danger so that I may continue to live my life in service to You. Amen.

(Devotions from "My Daily Devotion" by Dr. Stephen J. Carter, copyright 1988 CPH. All Rights Reserved. No part of this publication may be printed, reproduced, stored in a retrieval system, or transmitted, in any form or by any means, electronic, mechanical, photocopying, recording or otherwise, without prior written permission of Concordia Publishing House. For ordering information, please contact CPH at 800-325-3040 or visit www.cph.org.)

Today's Bible Readings: 1 Kings 3-4 Proverbs 1 John 19:1-22
To Download Devotion MP3 to your computer, right click here and select "Save Link As" or "Save Target As" or "Download Linked File As"