"Open Hands"
---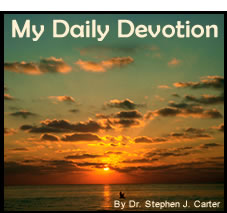 You open Your hand and satisfy the desires of every living thing. Psalm 145:16
The little child holds the quarter so tightly, you can't get it out of his grasp. Three shoppers grab a piece of sale clothing so firmly at the same time that the cloth tears. The robber clings so tenaciously to the valise of stolen jewelry that he fails to reach the getaway car in time. What do you refuse to release? How often do you grasp for yourself? Closed hands.

The psalmist describes the opposite, the God who gives freely, the God with open hands. "You open Your hand and satisfy the desires of every living thing." He bountifully showers us with His blessings. Life, health, clothing, food, friends, family – the list goes on. He even opened His hand to send His only Son, Jesus Christ, into a selfish world of closed hands. Often rejected, Jesus nevertheless opened His hands to feed the multitudes and bless the children. He went to His capture, conviction, and cross with open hands of love. He reaches out to us as the risen and ascended Lord.

No wonder the early Christians after Pentecost "were together and had everything in common" (Acts 2:44) and "selling their possessions and goods … gave to anyone as he had need" (Acts 2:45). Forgiven and accepted as God's children, they opened their hands to each other and to a world in need.

Thanks to the God with open hands, we extend our hands to others. Received by Him because of Christ's death, we welcome others. We give. We touch. We comfort. We include. We heal. Open hands for others, an extension of His hands to "satisfy the desires of every living thing."

PRAYER: O God of the open hands, use me to reach others for You. Amen.

(Devotions from "My Daily Devotion" by Dr. Stephen J. Carter, copyright 1988 CPH. All Rights Reserved. No part of this publication may be printed, reproduced, stored in a retrieval system, or transmitted, in any form or by any means, electronic, mechanical, photocopying, recording or otherwise, without prior written permission of Concordia Publishing House. For ordering information, please contact CPH at 800-325-3040 or visit www.cph.org.)

Today's Bible Readings: Psalms 109-110,138 John 16
To Download Devotion MP3 to your computer, right click here and select "Save Link As" or "Save Target As" or "Download Linked File As"