"Clean Hands"
---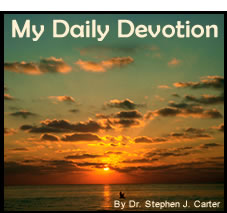 Who may stand in His holy place? He who has clean hands and a pure heart." Psalm 24:3-4
"Come in, Johnny. Supper is on the table. Wash those dirty hands before you eat." From little on, we learn the importance of clean hands – from the dinner table to the hospital operating room. But the difficulty of washing off the dirt accounts for the proliferation of soaps, cleansers, and even sterilization equipment for a germ-free environment.

The psalmist talks about clean hands in a spiritual sense: Who may stand in His holy place? He who has clean hands and a pure heart." The holy Lord owns the earth and everything in it. The King of glory comes in. Who stands worthy in His presence? The one with clean hands, who does not worship idols or swear falsely. Who qualifies for that kind of cleanliness and purity? No one. "All of us have become like one who is unclean, and all our righteous acts are like filthy rags" (Isaiah 64:6).

Clean hands. How we need them to stand in God's presence. But how stained with sin our hands appear, and we can't find a cleanser of our own making to cover up the stains. That's precisely why the King of glory came in at Bethlehem, at the Jordan, and at Calvary. With clean hands of obedience He lived for us. With nail-pierced and bleeding hands He died for us, paying the price for our uncleanness. "And the blood of Jesus … cleanses us from all sin" (1 John 1:7).

Clean hands. Washed clean in the waters of Baptism, we approach the throne with Jesus' clean hands. He welcomes us and sends us out with clean hands to love, witness to, and serve others.

PRAYER: Thank You, Lord, for giving me clean hands through Your death on the cross! Help me to participate in the daily cleansing of confession and absolution. Amen.

(Devotions from "My Daily Devotion" by Dr. Stephen J. Carter, copyright 1988 CPH. All Rights Reserved. No part of this publication may be printed, reproduced, stored in a retrieval system, or transmitted, in any form or by any means, electronic, mechanical, photocopying, recording or otherwise, without prior written permission of Concordia Publishing House. For ordering information, please contact CPH at 800-325-3040 or visit www.cph.org.)

Today's Bible Readings: Psalms 68, 72, 86 John 14
To Download Devotion MP3 to your computer, right click here and select "Save Link As" or "Save Target As" or "Download Linked File As"