"Sounding the Trumpets"
---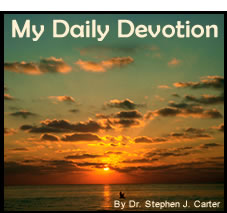 Make music to the LORD…with trumpets and the blast of the ram's horn. Psalm 98:5-6
Brass instruments always thrill me. Easter victory services with trumpets sounding forth fill my heart with praise that Jesus Christ is risen indeed. Purcell's "Trumpet Tune" and "Trumpet Voluntary" add celebration to wedding services. Bach and Handel also make such joyful use of trumpets!

The psalmist overflows with joyful praise to God: "Make music to the Lord…with trumpets and the blast of the ram's horn." Primitive ram's horns sounded the call to battle, the cry of warning, and the summons to worship. Along with the other instruments in the temple, the horns announced the presence of God in the midst of His people. The people were filled with both holy awe and great joy before the God who created them and brought them salvation.

Scripture knows of another use for trumpets, however. The trumpet sounds in Exodus 19, in 1 Corinthians 15, and in the Book of Revelation reminds us of our sinfulness and of the end of the world with its final judgment. The Day of the Lord is indeed coming. We need to be prepared. Amidst the alluring and confusing sounds of our world, we need to hear the warning trumpet so that we can turn from our sins to God's love and mercy.

And then we hear the trumpet announcing that the Messiah has come. The heralds of good tidings summon us to the rooftops to see Jesus coming as crucified and risen Savior. Bowing down on adoring knees, we thrill to hear the joyful trumpet sounds before the throne of God. Sound the trumpets now! Make music in the congregation of God's people! Alleluia!

PRAYER: O Lord God, we praise You and thank You for sending Jesus to be our crucified and risen Savior. Amen.

(Devotions from "My Daily Devotion" by Dr. Stephen J. Carter, copyright 1988 CPH. All Rights Reserved. No part of this publication may be printed, reproduced, stored in a retrieval system, or transmitted, in any form or by any means, electronic, mechanical, photocopying, recording or otherwise, without prior written permission of Concordia Publishing House. For ordering information, please contact CPH at 800-325-3040 or visit www.cph.org.)

Today's Bible Readings: Psalms 27-29 John 11:1-29
To Download Devotion MP3 to your computer, right click here and select "Save Link As" or "Save Target As" or "Download Linked File As"