"Clashing the Cymbals"
---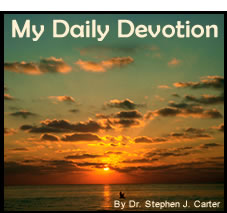 Praise Him with the clash of cymbals, praise Him with resounding cymbals. Psalm 150:5
The music goes on. Singers sing a song of praise to the Lord. Trumpets sound forth God's glory. The psalmist pulls out all the stops and shouts, "Praise Him with the clash of cymbals, praise Him with resounding cymbals." Yes, loud clashing cymbals. Unrestrained praise to the God of our salvation.

But cymbals can also be loudly out of place. They are used in a negative way by Paul in 1 Corinthians 13:1 to describe a loveless Christian, "If I speak in the tongues of men and of angels, but have not love, I am only a resounding gong or a clanging cymbal." In other words, we may present ourselves to others in a showy fashion and worship in a form of high praise, but if we lack love we are no better than a loud cymbal. So often, instead of praising God, we make a discordant sound as people see our selfishness and lack of concern for others. We call attention negatively to ourselves and dishonor God.

God came into a discordant world in the person of His Son Jesus Christ. Good Friday resounded with the clanging cymbals of injustice, hatred, and prejudice. But Jesus endured the same, and His cry of "My God, My God, why have you forsaken Me?" (Matthew 27:46) was followed by the triumphant cry, "It is finished!" (John 19:30). Clashing with evil, His love won the day.

His love frees us to love others. We are attuned to praise Him, and therefore we can joyfully worship Him with the clash of cymbals forever.

PRAYER: O Lord, help me to love others as You have loved me. Amen.

(Devotion from "My Daily Devotion" by Dr. Stephen J. Carter, copyright 1988 CPH. All Rights Reserved. No part of this publication may be printed, reproduced, stored in a retrieval system, or transmitted, in any form or by any means, electronic, mechanical, photocopying, recording or otherwise, without prior written permission of Concordia Publishing House. For ordering information, please contact CPH at 800-325-3040 or visit www.cph.org.)

Today's Bible Readings: Psalms 20-22 John 10:1-21
To Download Devotion MP3 to your computer, right click here and select "Save Link As" or "Save Target As" or "Download Linked File As"