"Are You Bearing Fruit?"
---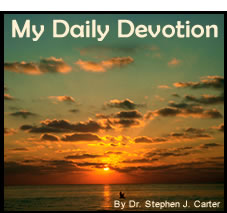 "Neither can you bear fruit unless you remain in Me." John 15:4
Gardening time. Looking for produce and productivity, both quantity and quality. Last winter, from our freezer, we enjoyed home-grown peaches, blueberries, apples, and cherries for home-baked pies. Applied to the Christian life, the gardening question comes from John 15: "Are you bearing fruit?"

Scripture suggests the following fruit-bearing possibilities:
(1) Bad fruit. Jesus says, "A bad tree bears bad fruit" (Matthew 7:17). Backbiting, badmouthing, and gossip all evidence bad fruit in a life. Does bitterness not qualify as sour grapes?
(2) No fruit. Jesus says, "He cuts off every branch in Me that bears no fruit" (John 15:2). If bad fruit represents sins of commission, no fruit describes sins of omission – a lack of love, joy, peace and the other fruits of the Spirit.
(3) Little fruit. "Every branch that does bear fruit he prunes so that it will be even more fruitful" (John 15:2). Sometimes unnecessary leaves and shoots drain off nourishment needed to produce fruit. The result – little fruit in both quantity and quality. We are bogged down by the world and its cares.
(4) Good fruit. "If a man remains in Me and I in him, he will bear much fruit" (John 15:5). The godly person is like a tree "which yields its fruit in season" (Psalm 1:3). The fruits of the Spirit are evident, and a life of witnessing brings many into the kingdom of God.

How can we bear much good fruit? Simply Jesus says, "I am the Vine; you are the branches. If a man remains in Me and I in him, he will bear much fruit; apart from Me you can do nothing" (John 15:5). Jesus chose us. He died on the cross for us. He grafted us into Himself. His life flows through us as we feed on His Word, so that we bear much fruit.

PRAYER: Dear Father, thank You for attaching me to Jesus Christ, the life-giving Vine. Help me to abide in the Vine through Your Word, so that I may bear much fruit. Amen.

(Devotions from "My Daily Devotion" by Dr. Stephen J. Carter, copyright 1988 CPH. All Rights Reserved. No part of this publication may be printed, reproduced, stored in a retrieval system, or transmitted, in any form or by any means, electronic, mechanical, photocopying, recording or otherwise, without prior written permission of Concordia Publishing House. For ordering information, please contact CPH at 800-325-3040 or visit www.cph.org.)

Today's Bible Readings: 2 Samuel 15 Psalms 3 Psalms 69 John 4:27-54
To Download Devotion MP3 to your computer, right click here and select "Save Link As" or "Save Target As" or "Download Linked File As"