"Tell Your Family"
---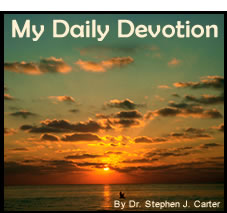 "Go home to your family and tell them how much the Lord has done for you, and how He has had mercy on you." Mark 5:19
A great miracle has occurred. A demon-possessed man, a maniac, has been healed by Jesus.

Now the grateful man pleads to go with Jesus and tell the world about God's great miracle. He wants to be an itinerant evangelist. But Jesus has other plans for him: "Go home to your family and tell them…" What a challenge, probably more difficult than going with Jesus, certainly a more effective form of witnessing. His family must have felt totally estranged by his madness. Would they now be able to accept him as a new person in Christ? Would they forget his past behavior? Would his new peace and sanity continue? The man obeyed Jesus and returned home. Apparently the miracle of readjustment to family and friends also worked, because we are told that the whole region was amazed at what Jesus had done.

Jesus Christ has also worked a great miracle within you. By nature estranged from God and controlled by selfish lusts, you have been cleansed by the blood of Jesus Christ, shed on the cross. In Baptism you have become a special child of God. Clothed in His righteousness, you are in your right mind, a mind new in Christ Jesus.

Grateful, you want to tell the world about Christ, but He has other plans for you: "Go home to your family and tell them …" what a challenge! Your family knows you, your shortcomings, your bad habits, your thoughtless, selfish words and actions. Will they accept your witness? Will they see Christ in you and rejoice at God's mercy? Jesus gives you the power to obey and return home. Just think how great a miracle would occur throughout our land if families everywhere would experience the healing of God and join in telling other families about God's mercy to them in Jesus Christ!

PRAYER: Lord, make me a witness of Your love at home. Amen.

(Devotions from "My Daily Devotion" by Dr. Stephen J. Carter, copyright 1988 CPH. All Rights Reserved. No part of this publication may be printed, reproduced, stored in a retrieval system, or transmitted, in any form or by any means, electronic, mechanical, photocopying, recording or otherwise, without prior written permission of Concordia Publishing House. For ordering information, please contact CPH at 800-325-3040 or visit www.cph.org.)

Today's Bible Readings: 2 Samuel 13-14 John 4:1-26
To Download Devotion MP3 to your computer, right click here and select "Save Link As" or "Save Target As" or "Download Linked File As"