"Is God's Kingdom Your Treasure?"
---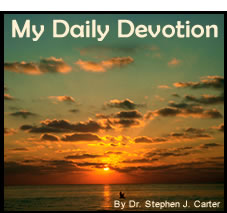 "The kingdom of heaven is like treasure hidden in a field." Matthew 13:44
Buried treasure always sparks intense interest – Spanish gold hidden in the Rockies or pirate loot buried on some deserted island. Men have invested great quantities of time and money and sacrificed their lives in pursuit of such treasure.

Matthew 13 contains a series of parables on the kingdom of heaven. One brief parable describes a man finding a treasure hidden in a field. You can almost picture his excitement as he uncovers the treasure and runs his hands through it with great joy. He buries the treasure again, rushes away to sell everything he owns, and then buys the field.

The parable identifies the treasure as God's kingdom. God rules the universe. He chooses a special people for His own. He redeems them through His Son's death. He calls them to serve in His kingdom. Belonging to that kingdom of God by grace represents a priceless treasure.

Is God's kingdom your treasure? Unfortunately, many glittering treasures beckon which detract from God's kingdom – success on the job, material wealth, family happiness. The demands of Kingdom service sometimes seem overwhelming. The root problem: We try to build our own selfish kingdoms. All kingdoms of this world crumble. Glittering treasures turn out to be fool's gold.

But God creates in our heart a burning desire for the treasure of His kingdom. Jesus ushered in the Kingdom with His message, His sinless life, and His sacrificial death on the cross. The cost to God was tremendous. God's Spirit has freely given us the treasure of His Son so that we might join Him in joyful Kingdom service. Valuing God's kingdom, we give all that we have and all that we are to the challenge of extending it to the ends of the earth.

PRAYER: O Lord, guide me to use all that I am and have to further Your Kingdom. Amen.

(Devotions from "My Daily Devotion" by Dr. Stephen J. Carter, copyright 1988 CPH. All Rights Reserved. No part of this publication may be printed, reproduced, stored in a retrieval system, or transmitted, in any form or by any means, electronic, mechanical, photocopying, recording, or otherwise, without prior written permission of Concordia Publishing House. For ordering information, please contact CPH at 800-325-3040 or visit www.cph.org.)


Today's Bible Readings: 1 Samuel 22 Psalms 56 Luke 22:1-23
To Download Devotion MP3 to your computer, right click here and select "Save Link As" or "Save Target As" or "Download Linked File As"