"For the Flock: An Example of Suffering"
---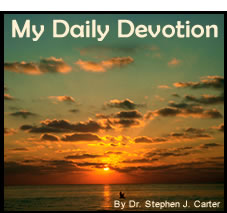 To this you were called, because Christ suffered for you, leaving you an example, that you should follow in His steps. 1 Peter 2:21
When we think of the Good Shepherd, we often picture a peaceful pastoral scene with sheep contentedly grazing in green pastures by a gently flowing brook. In this section of 1 Peter, we are described as sheep gone astray, now returning to the Shepherd of our souls (1 Peter 2:25). How wonderful to be sheep under the loving care of Jesus, our Good Shepherd!

But Peter jars us to attention when he speaks about suffering. The persecuted Christians of Asia Minor needed to hear these words because they wondered why they were enduring such persecution for the sake of the Gospel. Peter describes suffering as part of the Christian life.

How we need to hear the same message! Aware of suffering for Christ in the world, we often perceive the church as an escape from suffering. Peter tells us that God calls us to suffer as Jesus suffered.

Jesus, the Good Shepherd, suffered for us regardless of the consequences. He reached out for the lost sheep and silently went to the slaughter as the spotless Lamb of God. What an example of suffering! God wants us to follow that example.

But the same Good Shepherd who calls us to follow His example also provides His power for suffering. "He Himself bore our sins in His body on the tree, so that we might die to sins and live for righteousness; by His wounds you have been healed" (1 Peter 2:24). He gathers us scattered sheep from the thickets, takes us in His arms, binds our wounds, and returns us to the flock. Christ's suffering helps us conquer fear and selfishness so that we can, if necessary, suffer for the Gospel. Belonging to Christ's flock doesn't mean grazing contentedly in green pastures but rather following our Good Shepherd on a path which may include suffering.

PRAYER: Dear Jesus, help us to suffer for You, if You so will. Amen.

(Devotions from "My Daily Devotion" by Dr. Stephen J. Carter, copyright 1988 CPH. All Rights Reserved. No part of this publication may be printed, reproduced, stored in a retrieval system, or transmitted, in any form or by any means, electronic, mechanical, photocopying, recording or otherwise, without prior written permission of Concordia Publishing House. For ordering information, please contact CPH at 800-325-3040 or visit www.cph.org.)

Today's Bible Readings: Judges 13-15 Luke 15:1-10
To Download Devotion MP3 to your computer, right click here and select "Save Link As" or "Save Target As" or "Download Linked File As"