"Through a Glass Window at Church"
---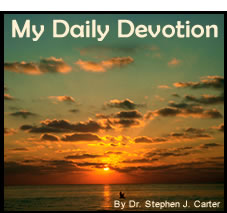 My soul faints with longing for Your salvation, but I have put my hope in Your Word. Psalm 119:81
One Sunday morning our family arrived late for the 9:15 service at church. Already somewhat in turmoil because of the last-minute rush, we found ourselves sitting on chairs in the overflow area looking through a glass window. The service proceeded. We strained to hear. We longed to participate and find nourishment in the Word of God. But only snatches of the readings and the sermon drifted through.

Growing frustration welled up within me. I needed God's peace and assurance, His guidance and direction. I needed to confess my animosity toward the family for making me late and to explain to them why the worship hour on Sunday meant so much to me. I realized how cut off I felt from the congregation at worship.

Perhaps the psalmist experienced similar feelings when he wrote, "My soul faints with longing for Your salvation." He felt cut off from God's presence as others persecuted him and his suffering continued. But he added the words, "I have put my hope in Your Word." He knew that God had promised salvation through the coming of the Messiah.

Our family learned a lesson that Sunday through the glass window at church. We discovered how easily we can take hearing God's Word for granted. Distraught in our late arrival and frustrated by our straining to hear, we fainted with longing for God's salvation. But in the car on the way home and at the Sunday dinner table we put our hope in God's Word. We confessed to one another our wrong words and actions. We shared our need for regular growth in God's Word. And most of all, we looked to Jesus Christ, our Savior and friend, who graced our dinner and even our discouraging hour in the overflow area. We can always see and hear Him, even through a glass window at church.

PRAYER: Lord, give me a longing for Your salvation. Open my ears to hear and my eyes to see You in Your Word. Amen.

(Devotions from "My Daily Devotion" by Dr. Stephen J. Carter, copyright 1988 CPH. All Rights Reserved. No part of this publication may be printed, reproduced, stored in a retrieval system, or transmitted, in any form or by any means, electronic, mechanical, photocopying, recording or otherwise, without prior written permission of Concordia Publishing House. For ordering information, please contact CPH at 800-325-3040 or visit www.cph.org.)


Today's Bible Readings: Joshua 22-24 Luke 12:1-31
To Download Devotion MP3 to your computer, right click here and select "Save Link As" or "Save Target As" or "Download Linked File As"