"Polite Welcome or Demonstrative Love?"
---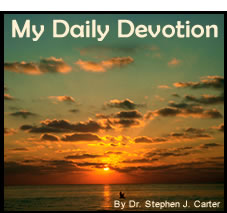 Now one of the Pharisees invited Jesus to have dinner with him … A woman who had lived a sinful life … brought an alabaster jar of perfume. Luke 7:36, 37
If Jesus came to town for a visit, how would you receive Him? A certain Pharisee gave Him a polite welcome. He provided a meal and a forum for conversation. Perhaps the man was a collector of celebrities or a curiosity seeker. On the outside he played a good host, but at best he gave Jesus a halfhearted welcome.

We might want Jesus in our home, too. He might be good for the business or contribute to our status in the community. Might we restrict ourselves to a polite welcome, not really listening to His Word except with a critical or patronizing air? Would we remain untouched by Him or His message, except when He approves of what we are already doing?

A notorious woman enters the house. She expresses demonstrative love toward Jesus. She wets His feet with her tears and wipes them with her hair. She kisses His feet and pours perfume on them. Jesus praises her act of love. He announces that her many sins have been forgiven. Her faith has saved her.

Polite welcome or demonstrative love? Do you love Jesus with a reckless abandon, sparing nothing in expense or open loyalty, not worrying about what others think? Demonstrative love means a deep caring and commitment 24 hours a day. The critical coldness of self-sufficiency permits at best a polite welcome. Unwilling to admit sin, the Pharisee thinks he needs no help – and therefore gives no love.

But the woman recognizes a tremendous need for help as a fallen sinner. She accepts Jesus in faith as her Savior from sin. She knows His full forgiveness. And she responds joyfully with actions of love. Admitting our need for a Savior – because of our cold, selfish hearts and many other sins – we turn to the Man who poured out unrestrained love on the cross. He forgives fully. Joyful beyond words for His forgiveness, we demonstrate a living, active love.

PRAYER: Lord, move my heart to love You. Amen.

(Devotions from "My Daily Devotion" by Dr. Stephen J. Carter, copyright 1988 CPH. All Rights Reserved. No part of this publication may be printed, reproduced, stored in a retrieval system, or transmitted, in any form or by any means, electronic, mechanical, photocopying, recording or otherwise, without prior written permission of Concordia Publishing House. For ordering information, please contact CPH at 800-325-3040 or visit www.cph.org.)

Today's Bible Readings: Joshua 19-21 Luke 11:29-54
To Download Devotion MP3 to your computer, right click here and select "Save Link As" or "Save Target As" or "Download Linked File As"