"Living Simply"
---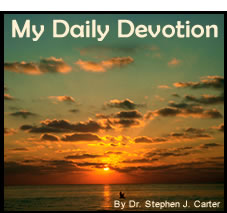 "Sell everything you have and give to the poor, and you will have treasure in heaven." Luke 18:22
At the 1964 World's Fair, General Electric featured a Carousel of Progress, now on permanent display at Disney World. As the audience revolves on a carousel, four scenes are presented, each showing material progress in its own era – turn of the century, the 1920s, the 1940s, and the modern age. From a pump in the sink to a fan blowing over a block of ice in the bathtub, to refrigerators and color television sets, the carousel moves on. Yesterday's luxury becomes today's necessity. Jesus confronts the rich young ruler with the startling call for a simpler life. Faced with giving up his extensive wealth, the man goes away sorrowing.

We find purpose and security in money and possessions. We work hard to attain them and then often work harder to maintain and protect what we own. These possessions complicate our lives, often failing to make us happy. At the same time we rationalize about our need to provide for our family and our old age.

Look at Jesus' simple living. Though not wealthy, He enjoyed life with good friends, with sufficient food and clothing. He furnished the Passover meal for His disciples, visited with Mary and Martha, and fed 5,000 people. Yet He placed all material possessions in service to His father and other people. And Jesus willingly gave up all possessions in death. He went to the cross where they divided His garments and gambled for His seamless robe. He died simply for the sins of the world, including greed and the selfish use of possessions.

Only Jesus Christ counts in life. Saved by His death, we receive full forgiveness and rejoice as His followers. Material possessions serve as gifts from Him to be enjoyed and used in His service. The struggle continues, but He makes it possible for us to live simply as we follow Him.

PRAYER: Dear Father, reorient my complicated use of possessions into a simpler life of service based on the life, death, and resurrection of Your Son for me. Amen.

(Devotions from "My Daily Devotion" by Dr. Stephen J. Carter, copyright 1988, CPH. All Rights Reserved. No part of this publication may be printed, reproduced, stored in a retrieval system, or transmitted, in any form or by any means, electronic, mechanical, photocopying, recording or otherwise, without prior written permission of Concordia Publishing House. For ordering information, please contact CPH at 800-325-3040 or visit www.cph.org.)

Today's Bible Readings: Exodus 27-28 Mark 1:23-45
To Download Devotion MP3 to your computer, right click here and select "Save Link As" or "Save Target As" or "Download Linked File As"