"Daily at the Door"
---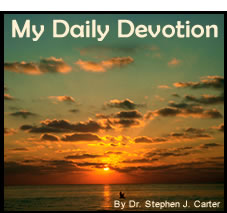 "Blessed is the man who listens to me, watching daily at my doors, waiting at my doorway." Proverbs 8:34
Many successful people started out at the doorstep of those they admired.
Many children in American history came to the doors of printers,
blacksmiths, and bakers to apprentice themselves for a career. Young men
followed Socrates and other philosophers to gain morsels of wisdom.

Proverbs 8 personifies wisdom and declares, "Whoever finds me finds life and
receives favor from the Lord" (Proverbs 8:35). Pride and arrogance stand
condemned. Evil behavior and perverse speech are hated. But simple, humble
willingness to come to God and let Him guide into all truth brings wisdom.
Daily at the door of God's wisdom brings life.

Today's world provides many competing doorsteps: scientific knowledge,
business acumen, psychological success strategies, secular philosophies.
Each beckons for a daily visit at the door. Wisdom's door described by
Proverbs may appear less appealing.

But that wisdom leads to Christ, the Power of God and the Wisdom of God. Try
reading Proverbs 8 substituting Christ for wisdom and its pronouns. Wait at
the door of Bethlehem, the temple, the Nazareth synagogue, the home of Mary
and Martha, the upper room. Follow Him on the dusty roads, along the
seashore, through the Jerusalem streets to Calvary, to the mountain in
Galilee. Read the Word. Worship in His house with bread and wine. Daily
at the door "His door" means life, eternal life, for you and those you
bring to Him.

PRAYER: Dear Lord, guide me to the door of Your Word and wisdom. Help me
to guide others to You, also. Amen.

(Devotions from "My Daily Devotion" by Dr. Stephen J. Carter, copyright
1988, CPH. All Rights Reserved. No part of this publication may be
printed, reproduced, stored in a retrieval system, or transmitted, in any
form or by any means, electronic, mechanical, photocopying, recording or
otherwise, without prior written permission of Concordia Publishing House.
For ordering information, please contact CPH at 800-325-3040 or visit
www.cph.org.)

Today's Bible Readings: Genesis 39-40 Matthew 21:23-46
To Download Devotion MP3 to your computer, right click here and select "Save Link As" or "Save Target As" or "Download Linked File As"