---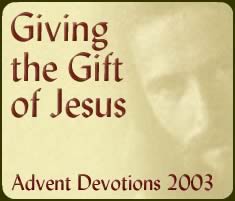 "For my eyes have seen Your salvation." Luke 2:30
SCRIPTURE REFLECTION
Simeon praised God when he saw Jesus, whom God sent for the salvation of the world. Having seen the Promised One of God, he could live out his days in peace.

THE JOURNEY—DAY 35
After breakfast on Saturday, Bill and Sam were talking about the father-son trip to the basketball game at the end of the month. Bill asked Sam what he thought about Chuck and Bobby joining them for the game. Sam was agreeable to the idea.

Bill called Chuck to invite him and Bobby. Chuck liked the idea and Bobby concurred. While on the phone, Chuck felt like he wanted to talk to somebody he could trust about his prayer. He said, "Bill, can I talk to you about something?"

Chuck proceeded to tell Bill about his prayer and the previous night. He relayed that he believed Jesus could help him. "I think I've begun to see in my life the salvation you talked about in Jesus. I don't know that I fully understand it, yet. But I do believe He can help me and bring peace to my life."

Bill said, "Chuck, that's great news! God is at work in you."

Bill invited Chuck and Bobby to go with his family to worship the next day. Chuck was silent for a moment. Then he responded, "I think I'm ready." Bill asked, "Can I pick you up at 10?" Chuck said, "We'll be ready."

REALITY JOURNEY
When a new Christian receives the gift of salvation, he or she begins a new life journey with Christ. New Christians need mature Christians to help them learn to walk with Jesus. Mentoring the Christian life and faith is an important part of the mission.

PRAYER FOCUS
Pray that God would use you to mentor a new Christian in his or her walk with Jesus.

Today's Bible Readings: Genesis 7-9 Matthew 3
To Download Devotion MP3 to your computer, right click here and select "Save Link As" or "Save Target As" or "Download Linked File As"