---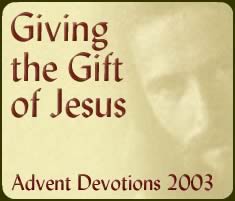 They spread the word. Luke 2:17
SCRIPTURE REFLECTION
Once the shepherds heard the message and saw the Christ child, they spread the word. The word concerning Jesus must continue to be spread today so all can be amazed at His love.

THE JOURNEY—DAY 29
Sunday after worship, some of Bill's friends commented on how they enjoyed meeting Chuck. Bill shared some of Chuck's story, being careful not to say anything he might not want shared.

The word about Chuck spread to other men in the church. They talked about how they could support Chuck and Bobby during this difficult time. Some committed to praying for them every day. Some talked about inviting Chuck and Bobby to the father-son trip to a basketball game. Others talked about praying for them at the weekly Men's Prayer Breakfast. Some of the dads offered to pick up Bobby for youth events.

Bill observed how these men really cared and genuinely wanted to help Chuck. He said to one of his friends, "It is really amazing how quickly the word spread around church and how many are going to be praying for Chuck and Bobby."

His friend replied, "That's because we want to spread the Word of God to them so they will know Jesus as Savior and Lord, too."

Bill left church that day in awe of how God was now working through so many people in order that Chuck would know Him.

REALITY JOURNEY
Spread the word about Jesus. Spread the word about your friends who need Jesus so others can be in prayer and support the witnessing effort. They can help spread the good news, too.

PRAYER FOCUS
Pray that the Gospel will be spread to people who do not know Jesus. Ask God to use the collective efforts of His people for proclaiming His Word of forgiveness and love.

Today's Bible Readings: Nehemiah 10-11 Revelation 19
To Download Devotion MP3 to your computer, right click here and select "Save Link As" or "Save Target As" or "Download Linked File As"