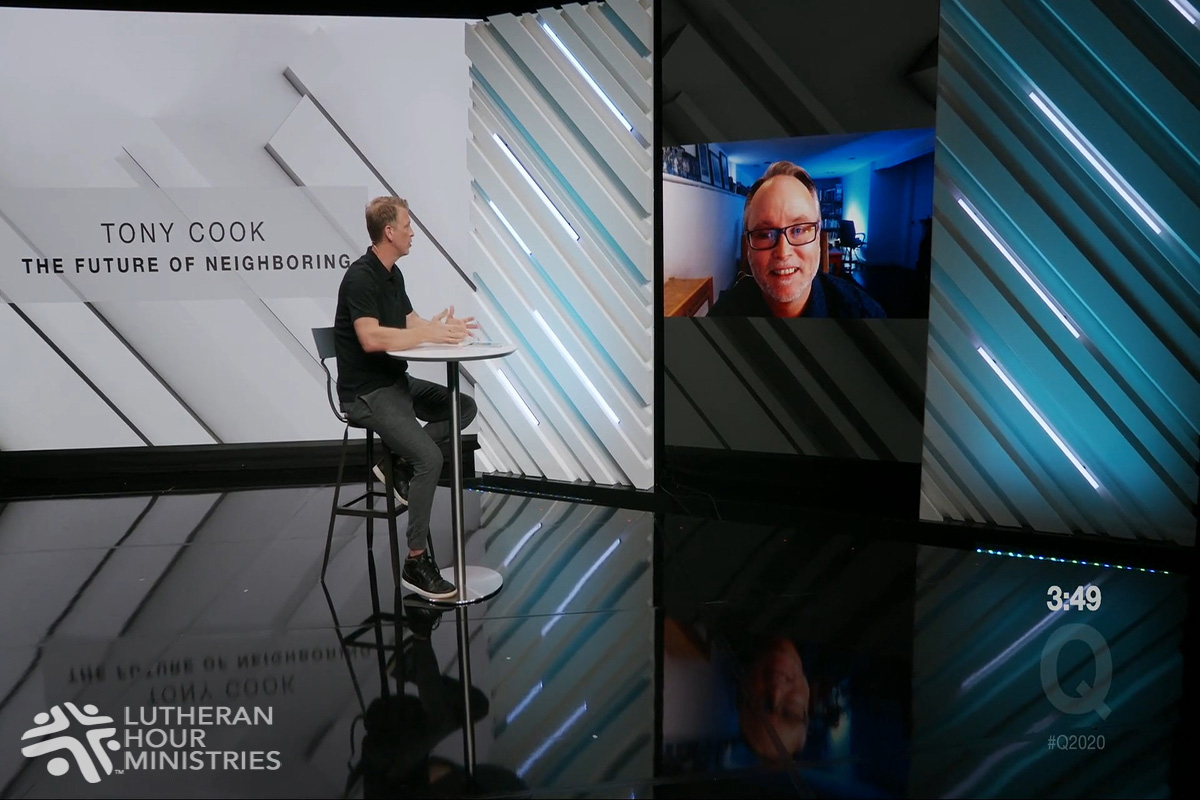 More than 12,000 Christian leaders from across the country gathered online April 22-23 for an insightful virtual experience showcasing educational talks by thought leaders and stories from change-makers that inspire culture-shaping conversations and opportunities in the year ahead. Rev. Dr. Tony Cook, LHM's vice president of global ministries, was honored to be a featured speaker during Q's Virtual Summit to share the vision for The Hopeful Neighborhood Project that is now in development based on the third year of research uncovered through LHM's partnership with Barna Group.

"The Hopeful Neighborhood Project will be a collaborative network committed to improving neighborhood well-being around the world," says Cook. "Our resources and online network will equip and encourage neighbors to work together, using their gifts and the gifts of their community, to pursue the common good of the neighborhood.

"This work is not about researching another church program," Cook continues. "It's not about adding one more thing to the congregation's calendar. It's about unleashing our neighborhoods' God-given gifts in everyday life."

You can learn more about the research behind this upcoming project and how Christians can be a welcome influence in their neighborhoods by ordering the Better Together monograph produced in partnership with Barna Group. It is available now at shop. barna.com for $39. Additional information about how you can become involved in this exciting initiative, as well as resources to accompany it, will be available later this year and in early 2021.

Q's annual conference, which went digital this year due to the COVID-19 pandemic, is a proven vehicle for building and sustaining a vision for restoring the credibility of the Christian faith in western culture for new generations. By equipping strategically positioned Christian influencers to renew the way they believe, think, and act in regard to culture, this event increases the positive effect Christianity has on society.

Gabe and Rebekah Lyons founded Q in 2007 as a learning community that mobilizes Christians to advance the common good in society. They convene leaders in America's most influential cities and equip them to engage public life in winsome and thoughtful ways. Gabe is the co-author of Good Faith: Being a Christian When Society Thinks You're Irrelevant and Extreme, author of The Next Christians and co-author of UnChristian: What a New Generation Really Thinks About Christianity and Why It Matters. Prior to launching Q, Gabe served on the team that co-founded Catalyst, the largest gathering of young church leaders in America. Rebekah is a national speaker and bestselling author of Rhythms of Renewal: Trading Stress and Anxiety for a Life of Peace and Purpose, You Are Free: Be Who You Already Are and Freefall to Fly: Breathtaking Journey Toward a Life of Meaning.