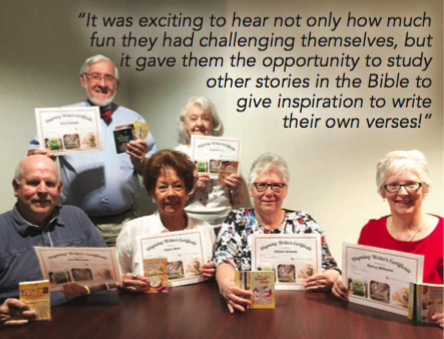 What do you do when you're looking for the next topic of study for your adult Bible group? Use one of Lutheran Hour Ministries' rhyming children's booklets, of course!

Here's how that light went on for a congregation in Ohio.

One Sunday, instead of doing a Bible study lesson, Debbie Scheetz and her study group from Emmanuel Lutheran Church in Coshocton listened to The Lutheran Hour for inspiration. What they received was a fertile idea for the group's next study focus. During the Action in Ministry segment, they learned about LHM's Do You Know Who Jesus Is? children's booklet offer in an interview that featured Mark Debrick, principal at Zion Lutheran School in Harvester, Missouri; former LHM employee, Rich Cohrs; and Rev. Dr. Gregory Seltz.

The pocket-sized booklet on Jesus, which is written in four-line rhyme and supplemented with beautiful illustrations, was ideal for the group's next topic of study. Scheetz challenged members to find a Bible story of their own and set it down in their own words-using rhyming text. They were to then bring them back the following week. While a few members were hesitant, other intrepid souls stepped up to the challenge, saying it would be fun to see what happens.

Of the activity, Scheetz said, "We had a really good discussion about how not having summer materials for a Bible study (a cost-saving measure) led us to be creative, leading us to use The Lutheran Hour on my phone, introducing it to others in the group, and then God connecting us to you as well. This experience has been refreshing to our group! Thanks for the certificates, books, and kind words! Our compliments to you as we read all your books and decided they are not just for kids!"

To honor their foray into the world of rhyme, participating group members were rewarded with a "Rhyming Writer's Certificate"-a little reminder of how big ideas can come from unexpected places. Suzie Sallee, coordinator of witness tools for LHM, said, "It was exciting to hear not only how much fun they had challenging themselves, but it gave them the opportunity to study other stories in the Bible to give inspiration to write their own verses!"

And sometimes one thing leads to another as well: in this case, additional booklets were purchased by Emmanuel Lutheran to hand out during the church's annual "Amazing Day Grace Camp" program, which is open to community children who reside in one of their poverty-stricken areas.

Since their first release as individual titles, LHM's children's series of rhyming, illustrated booklets has found a large and expanding audience. To date nearly 800,000 copies have been distributed to churches and individuals all across North America, with 10,000 of those finding a home among Spanish speakers. Abroad, translations have been made into Indonesian and Indian languages, along with a number of countries in South and Central America utilizing them as well. Other titles in the series are The Christmas Journey, The Easter Story, The Bully, Sharing Your Faith, and Learning to Pray.