Lutheran Hour Ministries is excited to announce a new strategic partnership with SAT-7, the first and largest Middle East and North African Christian TV network. The two Christian broadcasters will work together to co-produce a new television series for Arab youth and young families from the SAT-7 studio in Cairo, Egypt.

"As a mass proclamation organization, our primary goal is to share the Good News with people who have little or no possibility of hearing the Gospel," says LHM President & CEO Kurt Buchholz. "This partnership allows us to produce culturally-relevant television programming that will be watched by millions of needy and hurting people throughout the region with a message that God loves them, a message that gives them hope for the future."

"SAT-7 works with many partners but one thing they all have in common is a commitment to biblical truth and the importance of sharing the Gospel with people who have never had the opportunity to hear it before," says SAT-7 CEO Dr. Terence Ascott. "We share these values and objectives with Lutheran Hour Ministries."

"We are thankful that through this partnership with SAT-7 we can capitalize on each other's strengths in bringing the love of God in all its fullness to the people of the Middle East and North Africa," says Dr. Douglas Rutt, LHM's director of international ministries.

"I can think of no more compelling way to fulfill LHM's mission of Bringing Christ to the Nations—and the Nations to the Church than to expand our mass media outreach throughout the Middle East," says Eric Gates, LHM's regional director for Africa and the Middle East. "Our goal is to become a visionary creator of original Arabic content for the region, while providing the best care and nurturing possible to those seeking to learn more about Jesus."

"Hearing the Gospel through mass media from the privacy of their own homes may be their only opportunity to hear it at all," says Gates. "This effort will provide hope for millions of people searching for answers."

"When we have worked with other ministry partners, we've produced programs in their facilities in Europe," says Ascott. "This partnership with Lutheran Hour Ministries provides a new opportunity in that we are providing the facilities and technology to produce the content."

This strategic ministry partnership will also involve future opportunities for coordinated audience relations follow-up, new approaches to social media engagement, joint fundraising, and joint research initiatives.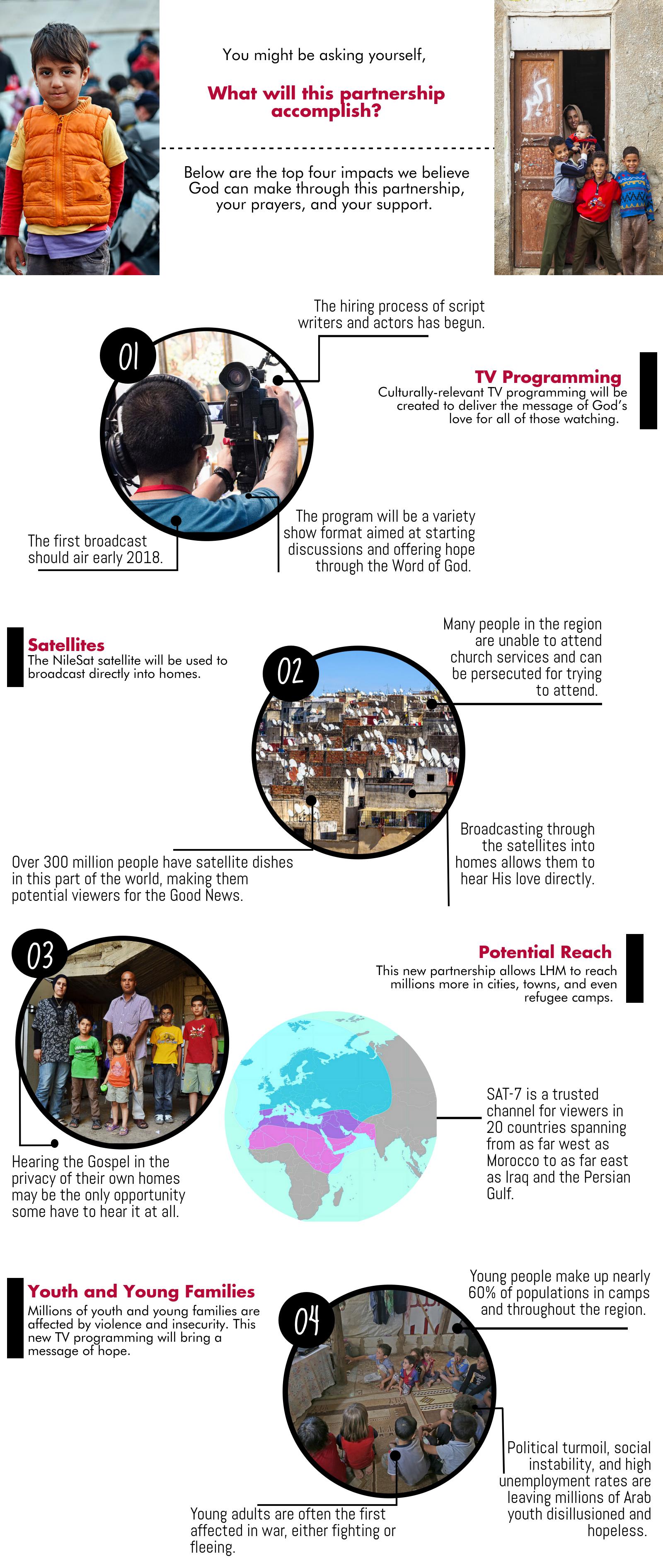 What can you do? First, pray for the safety of everyone living or working in the Middle East and North Africa. A recent increase in attacks targeting Christians presents additional difficulties for Christian ministries working there. Shining the light of the Gospel into the region has never been as important as it is today.

You can also help provide a vital lifeline to the people of the Middle East and North Africa through your financial support. Many people in the region are unable to attend church services due to lack of access, and are often persecuted for even trying to attend. However, your support will help broadcast His love directly into the safety of their homes, wherever they may be. You can make a difference by assuring His truth is available when seekers need it the most! For more information, visit lhm.org/MENA.