Braggin' Rights
---
Tennessee, Seymour: Dean A Hempel
Host Church: Celebration Lutheran
On December 9th, Men Celebrate Jesus in Seymour Tennessee conducted our December Give Back project.

Since our church is located on the route of the Annual Seymour Christmas Parade, we decided to take advantage of the traffic and exposure to our community. This year was the 25th annual parade and benefited local families in need. Teachers selected the families based upon their familiarity with students in the community. Men Celebrate Jesus (Mens Network) decided to have canopys and tables along the parade route and serve up some brats, hot dogs, and kraut to help raise funds for the same cause.

In preparation for the project, we solicited some help from local businesses with our cause, so we had some help with food and publicity. The day of the event had some challenges with the weather, but the parade went on as planned, although smaller than previous years. We showed our community how Jesus Love works with providing refreshments at no cost, just a free will offering. While we didn't have any expectations of the outcome we fee it was a success on several levels. Our men had an opportunity for fellowship, everyone in the community saw our activity at the church, and what money was raised went to a good worthy cause.

While the totals are not yet in, we estimated that the entire event helped about 82 families in some capacity and donations are over $495. So, Christmas will be a little better for struggling families in Seymour this year.

Attached is a picture of our group showing off our "Mens Network GIVE BACK" hats. And since we were working, there's picture of some of the great food we served up.
Thanks for helping make our event a great one.(with the caps) Dean Hempel

Missouri, Kirkwood: Turkey Blessing
Host Church: Concordia-Kirkwood, LCMS
The picture above is from "Turkey Blessing 2018," an event Concordia Lutheran Church in Kirkwood, Missouri, held Nov. 18 when its Men's Ministry distributed a whoppin' 1,000 Thanksgiving dinners (meals included spuds, stuffin', gravy, and green beans). While this event was already in the works before we launched this year's GIVES BACK, it shows the tremendous need that is out there.

This was the fourth time Concordia offered this FREE bonanza, which also included the distribution of printed devotions and friendly offers from volunteers to pray with meal recipients alongside their vehicles. Beyond the 1,000 turkeys given away by the church, 250 more turkey dinners were also provided to four other St. Louis organizations: All Nations Church in University City, Christian Friends of New Americans, Caring Ministries, and People of the Book Lutheran Outreach. More than 200 volunteers showed up to lend their time and energy. Well done, brothers, well done!
Indiana, Seymour: 2019 Men's Gathering
April 5, 2019 - April 7, 2019
Host Church: Lakeview Ministries
On April 4-7th the 8th annual Men's Gathering was held at Lakeview Villages in Seymour, IN. This year we gathered a record 125 men to hear Rev. Jeffrey Hemmer challenge us to Man Up!

Great fellowship happened all weekend with opportunities to partake in our 3G activities (Guns, Golf, and Give) along with a bass fishing tournament, Medieval Challenge, Archery Tag, and several Sectional Topics. We all ate like KINGS at our hog roast on Saturday and our first ever shrimp boil.

A special thank you to all our speakers and to the LCEF for their kind donation to support this event! To learn more about this event and to stay updated on next years' gathering visit www.mensgathering.us or search for #mensgathering2019 on Facebook and join our group.
www.mensgathering.us

---
Wisconsin, Stevens Point: Oktoberfest at Hope Lodge
September 25, 2018 - September 25, 2018
Host Church: St Paul Lutheran Church et al
Our A-MEN Group and our wives recently serviced our annual Oktoberfest meal to the residents of Hope Lodge, an American Cancer Facility in Marshfield, WI serving 35 people. Our menu consisted of brats, sauerkraut, German Potato salad, weinersnitchel, German strudel and other German related foods.

We handed out Project Connect booklets to all the residents of Hope Lodge. The residents are either cancer patients that go daily to the near-by St. Joseph Hospital for treatment or family members of patients who are at the hospital. Below is a copy of a thank you our A-MEN group received.

"Dear A-MEN Group and ladies:
Thank you for once again hosting Your Oktoberfest dinner at our Hope Lodge. Our guests were so pleased and appreciated the conversation to take their minds off things.".

stpaulequips.com

---
Texas, Cypress: 75th Annual Lonestar District LLL /LHM Convention
September 15, 2018 - September 15, 2018
Host Church: St. John Lutheran Church
This was the 75th Convention of the Lutheran Laymen's League - Lone Star District. Jeff Craig-Meyer from Lutheran Hour Ministries shared the global outreach that LHM has impacted. We praise God for His diligent workers! Although local representatives are trained by LHM, many volunteers from America help give life to the ministries.
www.stjohn.tv

---
Wisconsin, Stevens Point,: A-MEN Group to Feltz Family Farm Tour
August 28, 2018 - August 28, 2018
Host Church: St Paul Lutheran Church et al
Greetings
Our A-MEN Group visited the Feltz Family Dairy Farm in Stevens Point, spending more that 2 hours listening to and watching the Feltz's interesting story about their completely automated milking operation.

The barn holds 100 head of cattle divided into 2 equal groups in free stall pens. Each cow has a chip in their ear and this chip keeps track of the activities of each animal. They head into the automatic miking parlor when ever they feel they have the need to be milked. Most cows get milked 3 times a day and some will be milked 4 times a day.

Sixteen pounds of cranberry flavored feed are the treat waiting for each cow as they enter the milking parlor. All milking is done automatically by computer. There are no people in the barn area! Even the barn is cleaned by automation.

After our tour our group of 15 men enjoyed a large bowl of ice cream.


stpaulequips.com

---
California, Arcadia: Men's Christmas Breadfast
December 16, 2017 - December 16, 2017
Host Church: Our Savior Lutheran Church
Our Savior Lutheran Church Arcadia CA Men's Breakfast was held on December 16,2017. It was sponsored by OSLC Men's Network. 57 men attended.

Men's Breakfast Menu
Egg Cheese Ham Bake
Chili Relleno
Ham
Baked French Toast
Sliced Oranges and Grapefruits
Orange Juice
Coffee

Fifty-seven men enjoyed the food and fellowship, singing Christmas Carols. The Men's NetWork video "The Real St. Nick" was part of the program.



oslcarcadia.com

---
Colorado, Multiple cities: Peak Challenge 2017 - 12th Anniversary
August 3, 2017 - August 7, 2017
Host Church: Churches in the Band of Brothers Network
Three camps on the same weekend this year in three separate locations in Colorado: Dillon, Leadville and the base of Mt Elbert.

75 men in the Dillon basecamp. 85 men in the Leadville basecamp. 32 runners in the Running Camp at the base of Mt Elbert.

God.Men.Mountains.Legacies.

The focus this year was on 2 Samuel 23 and the story of Benaiah. Chasing a Lion. Messages on the Lion of Judah chasing us and on men Chasing Lions in their lives that matter.

We hike 14,000 ft peaks. We tent camp in the wilderness. We whitewater raft, ATV ride, fish, run mountain trails and more.

Most importantly, God uses the experience in the wilderness to bring men closer to Jesus and to bring some men to him for the very first time. God continues to bless men as young as 13 and as old as 72 as part of this experience, as well as their families, co-workers, church family and community.

www.bandofbrothersusa.net

---
Maryland, Eldersburg: Men of Faith in Action Bible Study
October 5, 2016 - October 5, 2016
Host Church: Faith Lutheran Church
Yesterday, Saturday 5th, the Men of Faith in Action (MOFIA) used the "Journey from Unbelief to Faith" for our Men's Retreat. The video content was very well received by the assembled group. We had about 12 men in attendance. Approximately 20 minutes was allowed for each video and 20 minutes for group discussion. The group responded very well to the questions. There was no need to push for responses from the group. All four sessions were well produced and edited. The topics and choice of first person experiences was excellent. Each topic seemed to hit a chord with the group.
.

---
Alaska, Palmer: "Shane Woods Memorial Ice Fishing Outing"
March 20, 2016 - March 20, 2016
Host Church: St. John Lutheran Church
St. John men planned another Shane Woods Ice Fishing Outing. This was held on Sunday, March 20, both as an opportunity for St. John Children to enjoy God's creation, and as a way to remember St. John member Shane Woods, who was killed in action while serving in Iraq in 2006.

One of the last church activities in which Shane participated before leaving was an ice fishing outing for St. John children. We honor his memory with this event.

We fished after worship on that day at, Seventeen Mile Lake, the same lake where we fished last year.

P.S. > It was a good event. At the Easter Egg hunt today one mom thanked me for "making my daughter so happy." She said her daughter woke up the next day and said, "I dreamed about catching a fish on the ice." It was a good day.
http://stjohnpalmer.org/main_pages/links.htm

---
Michigan, Grand Rapids: Men's Retreat at Camp Concordia
October 2, 2015 - October 4, 2015
Host Church: Messiah Lutheran Church
This past weekend (Oct 2-4), the men of Messiah Lutheran Church in Grand Rapids, MI (www.messiahgr.org) were joined by some of the men from Emmanuel Lutheran in Cadillac, MI on a men's retreat at Camp Concordia (www.campconcordia.com) in Gowen, MI.

We were very blessed by doing the Reel-to-Real: Of Fish and Men study. All the participants enjoyed the study greatly, and it had a perfect format to use in four sessions for our 3 day, 2 night retreat. We had a lot of opportunity for discussion, and we kept going over time for each session because the men were getting so much out of it. Thank you for such a Christ-centered study!

I've attached 2 photos:

1) One of our members, Dr. Pete Garchow, blessing our group by frying up a fish dinner (staying with our theme) using fish he and Duane Ambrose had caught this summer.
2) Some of our men watching a session of the video as we sat in OUR lodge at Camp!

Yours in Christ,

Pastor Tom Bartzsch

www.messiahgr.org

---
Wisconsin, Stevens Point et al: Octoberfest meal
September 29, 2015 - September 29, 2015
Host Church: St Paul Lutheran et al
"Shine with a Smile. Thanks for the wonderful meal!" "God bless you all." is one of the examples of the thank you notes we received from the residents of Hope Lodge.
Our A-MEN group and some of our wives prepared and served another successful Octoberfest meal for the cancer residents at Hope Lodge.

www.stpaulequips.com

---
Michigan, Kentwood: Father and Kids Camping Trip
June 12, 2015 - June 14, 2015
Host Church: St. Mark Lutheran Church
We had a great time with 16 Dads and a whole bunch of kids coming together. We were able to enjoy God's creation with fishing, baseball(one game with age ranges from 4-59), fantastic food, swimming, horseshoes, tubing and best of all, Saturday evening worship. Special thanks to Rev. Tim Behnke for again being our camp Pastor and Daniel Krueger as our music leader, we were truly blessed even though weather chased us out a day early. Here is our group pic:
http://www.stmarkkentwood.org/

---
Minnesota, Hopkins: Paintball & BBQ
June 6, 2015 - June 6, 2015
Host Church: Hopkins Zion Lutheran Church
On Saturday, June 6th 2015, the Hopkins Zion Men's Club held a Paintball & BBQ event. Fifteen men came to both events to have prayer, fellowship and devotion. The purpose of this event was to introduce men to other men with the same passion to serve our Lord & Savior Jesus Christ. The Men's Club meets on the last Monday of every month @ 7:00 PM to hold Bible studies which teach how to be strong and stand firm in your faith against political, religious and social issues of today.
zionhopkins.org

---
Kansas, Shawnee: LLL Zone Rally
March 21, 2015 - March 21, 2015
Host Church: Hope Lutheran Church
The Men of Hope at Hope Lutheran Church in Shawnee, KS hosted the spring LLL Zone Rally in March. They prepared the entire meal which include baked turkey, mashed potatoes, green bean casserole, and a variety of pies. The men's group leader, Jerry Williams, lead an interesting discussion on "Rejuvenating LLL/LHM in our congregations." The group meets every Saturday morning for breakfast and Bible study and is always working on home projects at church member's homes.
.

---
Michigan, Adrian: 4th Annual Adventures in Grilling
March 21, 2015 - March 21, 2015
Host Church: St. John's Lutheran Church
The AMen group at St. John's Lutheran Church, Adrian, MI, hosted their 4th Annual Adventures in Grilling on March 21, 2015.

About 100 men from the area gathered for food, fellowship, and fun! Our keynote speaker this year was Bill Yonker.

Everyone brings their own meat for grillin', and a side dish to share.

.

---
Minnesota, Hopkins, MN: 2015 Hopkins Zion Men's Club Annual Fish Dinner
March 13, 2015 - March 13, 2015
Host Church: Zion Lutheran Church
On March 13th, 2015 the Hopkins Zion Men's Club held our annual fish dinner. The old timers say it has been going for over 25 years, but no one is certain. How big was that fish you caught again? We served hand battered and pan fried pollack, with beans, coleslaw, potato salad, buns and cake for 173 people of the church and local community. We had 24 volunteers in total.

The purpose of the event was three fold. First and foremost, to bring the men of our Lord's church together to build genuine relationships by putting them work together side-by-side.

Second, as a fellowship event to raise money for church initiatives, such as group bible studies, youth events and our local food shelf.

Third, to promote our new men's ministry bible study, "The Intersection of Church & State" from Lutheran Hour Ministries. April 27th, May 25th, June 29th, July 27th in the fireside room @ 7:00PM.

Zion Lutheran Church
241 5th Ave N,
Hopkins, MN 55343

www.zionhopkins.org

---
Kentucky, Louisville: "This is Most Certainly Brew" Beer-Brewing Seminar
October 25, 2014 - October 25, 2014
Host Church: Concordia Lutheran Church
Saturday, October 25, in honor of the celebration of Reformation Day, two of our members presented a brief how-to demonstration on brewing beer. We got to watch two batches (one a full grain batch and another using a malt concentrate) being brewed, and also sample some of the presenters' home brew. The weather was great, the presentation was excellent, and the samples were tasty. What a great way to unwind and fellowship with our brothers in Christ!
www.concordia-lutheran.com

---
Florida, Boca Raton: 8th Annual OCTOBER-FEST - Men's Cookout
October 6, 2014 - October 6, 2014
Host Church: St Paul Lutheran Church and School
On October 6th this year 80 Men gathered for Our 8th Annual OCTOBER-FEST to share a GERMAN (like) MEAL with Friends for a FELLOWSHIP of Fun, Fellowship, and Delicious Bratwursts and Beer! There is NO BETTER PLACE to enjoy Oktoberfest than at your good 'ole German Lutheran church! In addition to the Wonderful food, our Men's Choir sang an Uplifting song, 3 Men shared their personal Experiences of participating in past Men Events (Tues Men Bible study, Men's Choir and last years Men's Weekend) and Prizes were given to those Men who had the BEST GERMAN Hat, Steins and Souvenirs. GREAT TIME FOR ALL!
www.stpaulboca.com

---
Kentucky, Louisville: Monthly breakfast & Bible study and Habitat for Humanity build
September 27, 2014 - September 27, 2014
Host Church: Concordia Lutheran Church
On September 27, the Concordia Men's Group participated in a Thrivent Builds project with Habitat for Humanity. We had a very good turnout for the build; about a dozen men and women from Concordia participated that day, and I know others from our congregation also participated in the weeks leading up to our day on site. The house was completed and dedicated on October 25.
www.concordia-lutheran.com

---
Indiana, Columbus: Beast Feast
June 13, 2014 - June 13, 2014
Host Church: St. Peter''s Lutheran Church
40 men ranging in age from 6 to 68 gathered once again in our semi-annual Beast Feast on June 13, 2014. Men bring a meat to grill and a side to share. A prize is given each time for the most exotic meat and the best tasting meat. Pictured are John Jervis, winner of the most exotic meat for his alligator andouille sausage, and Adam Frankhauser, winner of the tastiest meat for his Korean meatballs. Our next event will be in September.
.

---
Wisconsin, Stevens Point et al: A-MEN's Night Out at Hope Lodge
September 24, 2013 - September 25, 2013
Host Church: St Paul Lutheran
Our A-MEN group prepared and served the fourth annual meal for the residents of Hope Lodge in Marshfield, WI.

Hope Lodge is an American Cancer facility and resembles a three story motel and is the only one of its kind in Wisconsin. The residents are cancer patients that commute on a daily basis to St. Joseph's Hospital 2 blocks away or they are family members of hospital cancer patients. Rooms are free to residents but donations are welcome.

Common kitchens and dining rooms are available for the residents to prepare meals for themselves. It is in this common area that we prepared and served our Oktoberfest meal of bratwurst, sauerkraut, potato sausage, red cabbage and apples, German potato salad, German Chocolate cake and Krantz The meal was enjoyed by 25 residents and 17 A-MEN volunteers.

After the meal our A-MEN group sat with the residents and talked with them and reminisced about life experiences. We encountered an occasional person who showed no hope for their future. No one refused our offers to pray with them and were most appreciative for our prayers. A grip on the arm, a heartfelt "thank you!" or a tear moistened check was our reward.

Residents and staff offered many compliments for our meal and caring fellowship. In the past many non–profit organizations prepared and served meals to the residents but Hope Lodge no longer invites these organizations back. The A-MEN group is one of the select groups that are invited back each year; In fact, Hope Lodge would like us back more frequently.

I had several of the Men's Network Man's Cards laminated and I visited from table to table and handed out cards to the men. I told them they officially became "men" that evening. The men enjoyed their cards and laughed at the reasons on how to "lose" the Man Card.

As a side note to our Oktoberfest dinner, one of our A-MEN members met a former employer at the gathering. The former employee left the employer's company under less than amicable circumstances and they have not had contact with each other for several years. The employer now was suffering from cancer and was in treatment at the St. Joseph Hospital. The two men met and spoke to each other and before the evening was over, they had repaired their relationships and now had each other's addresses. Praise God for His healing relationship between these two men.

www.stpaulequips.com

---
Wisconsin, Stevens Point: A-MEN's Night Out
August 27, 2013 - August 27, 2013
Host Church: St Paul Lutheran Church and School
Twenty three men enjoyed a fact filled, albeit, a very hot evening, touring one of several Del Monte vegetable processing plants and seeing string beans becoming a finished food product.

Before we began our tour, retired plant manager, Roger Jacob, explained the vegetable growing process to our men. He explained how fields are scheduled for planting so that sweet corn, string beans, potatoes and beets keep the local Del Monte plant going 24 hours a day during the harvesting season. Vegetables begin arriving from central Illinois, then southern Wisconsin and then locally, so that the canning season lasts from early April to December.

We watched as one of many 27 ton semi load of string beans was unloaded in 35 minutes and within an hour of being unloaded was cleaned, sorted, typed, cooked, canned and placed in the warehouse. As we walked through the processing plant, our men were amazed at the numerous speeding belts of beans moving in several directions carrying processed product.

Several tons of vegetable products are processed during each shift.

After our tour, the A-MEN enjoyed snacks and fellowship in the administrative building.

Our three tour guides were thanked and shown our appreciation.

www.stpaulequips.com

---
Missouri, St. Louis: Men's NetWork Fish Fry
July 29, 2013 - July 29, 2013
Host Church: Lutheran Hour Ministries HQ
Lutheran Hour Ministries HQ had a fish fry lunch for all staff employees to celebrate the recent release of the Men's NetWork's 24th video-based Bible study "Reel to Real - Of Fish and Men". All of the fish served were caught by Executive Director Bruce Wurdeman and LHM fishing buddy Mike MacDowell.

Fryers were set up in front of the office entrance, with a grill of hot dogs available for the "non-fish-eaters". Rounding out the staff lunch was a suprise announcement that Reel to Real won a Silver Telly Award. (Yes, Silver IS first place). An award was presented to Bruce as the host of the study.

The Telly Awards honors the very best film & video productions, groundbreaking online video content, and outstanding local, regional, & cable TV commercials and programs.

www.lhmmen.com

---
Wisconsin, Stevens Point: A-MEN travel to the Brewers Game
July 20, 2013 - July 20, 2013
Host Church: St. Paul Lutheran Church & School
Our A-MEN's group, along with wives and friends left Stevens Point stopping at Concordia University, Mequon, for a tour of the campus and then arriving at a Brewer baseball game, which turns out to be the only game Ryan Braun played before his suspension.
www.stpaulequips.com

---
Florida, Jacksonville: Community Health Fair
May 4, 2013 - May 4, 2013
Host Church: St Paul Lutheran Church
Attached are photos of the St Paul Lutheran Church Health Fair held May 4, 2013. We are located in Jacksonville Florida. Although the rain came we had a great turnout. We had various health agencies handing out literature, performing health screenings, and demonstrations. We had HIV testing, Blood Drive, Diabetes testing, High Blood Pressure testing, etc. We are registered on the LHM website.

We are located at:

St Paul Lutheran Church
2730 Edgewood Ave
Jacksonville, Florida 32209
(904) 765-4219
Rev. James Wiggins, Pastor

www.spljax.org/

---
Minnesota, Henning: Men's Retreat
February 22, 2013 - February 24, 2013
Host Church: Lutheran Island Camp
Men traveled from Iowa, South Dakota, North Dakota, and throughout Minnesota to attend the 19th annual Men's retreat at newly remodeled Lutheran Island Camp, February 22 - 24. This year's theme was "Response Able Men."

Session topics included; 'Challenged as Husband and Father" by Rev. Paul Hennings, "Challenged Within the Church" by Rev. George Sagissor, "Challenge of Leadership" by Rev. Jim Walburg, "Response Able Men" by Rev. Dan Wagner, and "Hooked, Every Man's Battle" presented by Brad Veenstra and Brad Mockros. There was some free time Saturday afternoon to enjoy the beauty of the island and some recreational activities. Saturday evening the group watched the movie "October Baby" and wrapped up the tremendous weekend with Sunday services in the chapel.

A commemorative coin was given to each man attending the retreat to help them remember what they learned during the weekend.

islandcamp.org

---
Kentucky, Paducah: Raising Funds for River City Mission
January 1, 2013 - February 23, 2013
Host Church: St. Paul Lutheran Church
St.Paul's Lutheran Church in Paducah Kentucky had a very successful fund raiser in Feb for River City Mission, a homeless shelter, and raised more than $1200. Over the last 3 years we have raised almost $5000 in BBQ meals and Fish Fries supported by the community and all monies donated back to the Communities several non-profit organizations.
.

---
Texas, San Antonio: Del Rio Service Project
October 22, 2012 - October 26, 2012
Host Church: Concordia Lutheran Church
Members of Men's Bible Breakfast of Concordia Lutheran Church, San Antonio, constructed a 255-foot-long privacy fence to enhance the campus of Cristo El Salvador Lutheran Mission in Del Rio, the week of October 22, 2012. Funds for the project were raised through the two San Antonio Thrivent Chapters and by members of the class. Two members of Cristo El Salvador, along with Pastor Gary Martin, participated in the project. Volunteer workers from Men's Bible Breakfast included Lee Haines, Garnette Seay, John Bertram, Jim Burghard, Jack Martin, Dwight Andreas, Skip McBrine, Mike Grainger, Karl Brockman and Ron Lammert. Nearly 200 volunteer man hours were contributed to the project.
.

---
Nebraska, Omaha: Peak Challenge 2012
July 26, 2012 - July 30, 2012
Host Church: King of Kings Lutheran
More than 190 men (10 Pastors) from 56 different churches, 18 states, Canada and some missionaries off the field from China and Hungary were part of the experience.

More info at www.peakchallenge.net

or on our Facebook page - http://www.facebook.com/#!/pages/Peak-Challenge-2012/151075458323704


http://www.bandofbrothersusa.net

---
Nebraska, Omaha: Peak Challenge 2011
July 21, 2011 - July 25, 2011
Host Church: King of Kings Lutheran
130 men from all across the country and two missionaries from Taiwan and China were part of Peak Challenge. More than 24 churches were represented and more than 17 different states. Peak Challenge is for any man and for all men!

Peak Challenge 2011 was a transformational experience for men. Not only for the physical adventure that they faced, but also for the spiritual challenge that they took on and which the Holy Spirit moved mightily. More than 130 men summited Quandary Peak, a 14,000 foot peak in Colorado. 34 of those men decided to tackle another 14er the day before and got to the summit of Mt Massive, over 14,400 feet high. Men also teamed together to carry a wheelchair bound young man with cerebral palsy to the top of Quandary Peak. We also had two men baptized by one of our pastors on the trip. From the crazy whitewater rafting down the Royal Gorge to the amazing mountain biking trails near Breckenridge, men had the time of their lives, got to connect with other Christian men and most importantly were challenged to lead boldly, reject passivity and advance the Kingdom in their circles of influence.

http://www.bandofbrothersusa.net

---
Wisconsin, Stevens Point: Dinner at Hope Lodge
April 26, 2011 - April 26, 2011
Host Church: St Paul Lutheran
These are pictures of the A-MEN group included with the residents of Hope Lodge. We provided the meal as described in the initial article and afterwards sat with the residents.

The number of residents on the evening we were there was small but praise God that there weren't many people suffering from cancer. Our men asked and prayed with the residents. Vicar John Karay led our devotion.

One husband and wife came from the northern border of Wisconsin/Michigan and were down for his 6 month follow up. They were headed home in the morning. He was in his mid 80's and on oxegen.

Another gentleman was there because his wife was in the hospital with leukemia. He was in his mid 40's. We prayed with him and he cried and thanked us.

Our men were touched by the experience of their table visits and some were moved to tears because of the emotion shown by the residents.

We have been invited back by the Hope Lodge staff.

www.stpaullutheranstevenspoint.com

---
Minnesota, Hennig: Annual Men's Retreat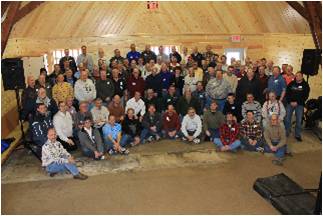 February 18, 2011 - February 20, 2011
Host Church: Lutheran Island Camp
The 17th annual Men's Retreat was held at Lutheran Island Camp, Henning Minnesota, on February 18-20, 2011. Nearly 100 men attending from North and South Dakota, Iowa and Minnesota. The main speaker was Gary Thies from Mission Central. Gary shared information about great mission work being done around the world. There was also bible study, the 4th Annual Chili cook-off, broom ball tournament, cross-country skiing, sing-a-longs, ice fishing and more.
www.islandcamp.org

---
Colorado, multiple: Band of Brothers Peak Challenge
July 22, 2010 - July 26, 2010
Host Church: 10 churches in the Band of Brothers Network
Almost 100 men made the trek to Lake Dillon, Colorado for the 5th Annual Band of Brothers Peak Challenge. God blessed the excursion this year from the very start, allowing us to enjoy 5 full days of beautiful, sunny weather without rain – a rarity this time of year in the upper elevations of the Colorado Rockies.

Men from more than 8 states, more than 10 different churches and even two young men from Burundi, Africa came together to enjoy the awe and wonder of God's handiwork, to grow deeper in their relationship with Jesus Christ and to make connections with other men that are on the same journey as they are – to stop at nothing to serve Jesus Christ.

The theme this year was "Primal" – based on the "Primal Commandment" found in Mark 12:30. That commandment tells us to love the Lord our God with all of our HEART/SOUL/MIND/STRENGTH. Using the Mark Batterson book "Primal", we dug deep into what God desires for us to love him with all our our HEART/SOUL/MIND/STRENGTH through some large group and small group gathering times each night at basecamp. The words that we heard from our leaders were powerful and the challenges that they left for us were on point. Men – take seriously those challenges that were issued at Peak Challenge and find other men – your "Band of Brothers" to hold you accountable to those things that you will tackle!

From whitewater rafting on the Arkansas to ATV touring at 12,000 feet…. from single track mountain biking to kayaking on Lake Dillon…. from catching rainbow trout to driving Jeeps across old mining roads… the men had the time of their lives!

For many, this was the first experience in the high country of Colorado. For others who had done this many times, it was a brand new experience that never gets old. Dads had such a great training ground for their sons, as these young men got to see Biblical manhood in action. Grandfathers were able to show their grandsons what it is all about to be a man of God. When we get men out of their normal trappings in life – away from the office and to do lists… when they can have a chance to dream, to play, to seek adventure, God allows their soul, their mind, their heart to see clearly what calling He has for them.

We have a whole year to reflect back on what God did at Peak Challenge 2010, who He allowed us to connect with and what He placed in our hearts to live out our faith as strong Christian men. Men – replay those times, those images in your heads throughout the year. Just as we built the cairn on the last night to remember what God has done for us, keep your hearts burning for the God that gave his only son to die for us – to take all of our sins on his back – and to redeem us so that we can be empowered to boldly lead in this world for his name.

Peak Challenge 2011 is coming up soon…. we want to see you there!

www.bandofbrothersusa.net

---
Wisconsin, Stevens Point: Hope Lodge Cancer Residents Cook-Out
July 13, 2010 - July 13, 2010
Host Church: St. Paul
Hope Lodge is a short term residential facility adjacent to St. Joseph Hospital and Clinic. It offers a place to stay for patients and their families that are receiving outpatient oncology treatment at the hospital. The American Cancer Society Hope Lodge known as the "home of hope," is one of those places designated to help.

Hope Lodge has a large kitchen facility and dining area and some of the men of the A-MEN group are shown here preparing the hamburger, brats and picnic meal for the residents.

Comments on a thank you card sent by the staff and residents of Hope Lodge, who were served the meal, reflected some of the following thoughts:
"Thank you for a most enjoyable evening." "I will always remember your caring, and taking time to make our lives happier." "Thank you for taking time to fellowship with us. You have touched many lives. God bless you all." "The work you fellows are involved in is certainly needed."

We have been invited back and will plan another servant event at Hope Lodge for early next year.

The A-Men group is made up of men from the Amherst, Stevens Point and Kellner area.


www.saintpaullutheranstevenspoint.com

---
Wisconsin, Stevens Point: Wisconsin Rapids Rafters Baseball
June 24, 2010 - June 24, 2010
Host Church: St Paul
Shown here are 30 men and youth that enjoyed an evening of baseball at Witter Field between the Wisconsin Rapids Rafters and the LaCrosse Loggers. A-MEN is the name of our newly formed men's network that includes men from Amherst, Stevens Point and the Wisconsin Rapids area. A-MEN are a group of men that are Christ centered on servant events, fun activities and doing positive things in the lives of others.

Lutheran Hour Ministries designed the Men's NetWork to give congregations tools and ideas so men can learn more about Jesus Christ, join in some great events, and use their time and skills to make a difference in their communities. If you haven't noticed already, you will see that most of the Men's NetWork material is aimed at groups of men. But that doesn't mean you can't find valuable tools for personal use as well

For information on how to set up a men's network for your church click on www.lhmmen.com or for information on the A-MEN group, email networkamen@gmail.com.

saintpaullutheranstevenspoint.com

---
Georgia, Woodstock: Cherohala Skyway Ride
May 15, 2010 - May 15, 2010
Host Church: Timothy Lutheran Church
The forecast for Santeetlah, North Carolina was ominous, "thunderstorms, some severe, likely for the afternoon", causing us (Jim, Frank, Steve, Dennis, Tad, and the two Bobs) to flip over our planned itinerary and get to the mountains as quickly as possible and save the Ocoee excursion for the way home, if weather permitted.

We took the two lane back-way to Blue Ridge, a far more scenic way than the slab, with many interesting side attractions, that on this trip included a seven-bike passing of a smoking diesel and a young deer reacting like a squirrel to the passing thunder.

After a pit stop at Copperhill's Hardee we cruised up Tn 68 (nice road) to Tellico Plains where we made a stop at the Cherohala Skyway Visitor Center for maps and T shirts. So far we were in luck. Clouds were forming but the (hot) sun prevailed.

After gassing up we followed the Tellico River for a while, then started to climb up the Skyway, from the river's 950 feet elevation, up, up and up. By Turkey Creek we were over 2500'; Brushy Ridge over 3,700', finally breaking 4,000' at Rattlesnake Rock. Taking no breather we continued to climb around the many curves in the road passing 5,390' at Santeetlah to stop at Hooper Bald,

http://www.macars.org/HooperBald.pdf

(scroll down), take a rest, and hike up to 5,413' level in search of the mysterious Spanish Rock (we didn't find it) and signs of the "Wild Boar Farm" that was there in the twenties (didn't find that either). Honest guys, I read it here:

http://www.main.nc.us/graham/mcclung/Historic%20Sites.html (then scroll down).

The skies were darkening but after the rest (yeah right) we took off to the eastern end of the Skyway at Santeetlah Gap (2,660') to turn around and start back up the mountain toward Tellico Plains. We stopped for the obligatory group photo at the road's high point, then on to Bald River Falls, truly a don't-miss attraction, not only the falls but the Forest Service road leading there that runs just feet away from the quick flowing river with its rapids and pools (like in bygone days).

By this time (2 p.m.) we were all HUNGRY, so off to the somewhat famous Tellico Beach hamburger place, outdoors on the river, for a Beachburger, fries, and a coke. I don't know if their food is really as good as it tasted but it always tastes great after a day of riding. While there we heard the first of the promised thunder and felt a few drops of rain. By 3:30 p.m. we were on our way home (Bob K. left earlier to make a 5 o'clock commitment). Because of the impending deluge we scrubbed the Ocoee way and headed directly for Blue Ridge and hwy 515. We didn't get far before the rain came down, then stopped, then down again. On the two lane Tn 68 we dropped our speed and watched our step around tree covered curves (slippery you know). Actually riding in the rain can be pleasant, if you slow down and are not pushed by traffic. Not so when we got on Ga 515 (aka 575). Too many cars and trucks, too much splash up from their four or more wheels, and the persistent feeling that maybe they don't see us through their fogged up windshield. Two lane roads rule.

The best pictures from the Cherohala Skyway Visitor Center, the high point at Santeetlah Gap, and Bald River Falls are attached.

http://tlcmc.org

---
Minnesota, Henning: Men's Retreat- Soldiers of the Cross
February 19, 2010 - February 21, 2010
Host Church: Lutheran Island Camp
The 16th annual Men's Retreat at Lutheran Island Camp was blessed to have over 100 registrations for the 2010 Retreat. The theme was "Soldiers Of The Cross." Many of those present felt it was the best that they had ever attended. Men came from Iowa, South Dakota, North Dakota and throughout Minnesota. Our annual Chili Cook-Off was won by the guys from Mt. Calvary Lutheran in Huron, South Dakota. A special thanks goes to the planning team and especially Pastor Dan Domke whose vision the Men's Retreat was 16 years ago.
www.islandcamp.org

---
Michigan, Sebewaing: Fire and Ice
February 12, 2010 - February 13, 2010
Host Church: Immanuel
Thirty-eight men gathered for food, fun, and fellowship around the theme of Fire and Ice. The fire component included a bonfire and beverages at a local farmer's shed while the ice was for men gathered on the frozen waters of Saginaw Bay trying their hands at ice golf or ice fishing.

A Bible session entitled, "Man as Spiritual Leader in the Worlds of Family and Church," included tips and tools for helping men grow as the spiritual leaders in their families and churches, even as they mature in their discipleship journey.

ilcmi.org

---
Kentucky, Hopkinsville: Men's skeet shoot
November 7, 2009 - November 7, 2009
Host Church: Faith Lutheran Church
Faith Lutheran Church, Hopkinsville, KY did a Men's NetWork outing on Saturday November 7, 2009. We gathered around one of the pickup trucks to had fellowship with Pastor Redmann leading the way.
It was then time to have a skeet shoot for the remaining time of the afternoon. A great time was had by all, even if some showed they didn't have shooting skills. As darkness took over we had a cookout were the non-shooters were assigned to the grill. We want to Thank Matt Manor for arranging the get together and Walt Uher for allowing us to use his place out in the country. We are planning on conducting more outings in the future.

luther95.com/flc.hky.

---
Iowa, Milford: Pheasant Hunting Retreat
November 6, 2009 - November 8, 2009
Host Church: Camp Okoboji
The event was a success. We had 8 hunters who bagged 26 birds in a day and a half. God provided the best weather we could have hoped for. All who attended went away feeling like it was an event that wasn't to be missed. We heard the following comments, "My cup ran over with the success and excitement of the hunt." "The event exceeded my expectations for me and my dog." "You can't measure this event in dollars and cents. It was more valuable than that!" "Okoboji Game Farm and owner Doug Dodge went over the top in providing a great experience for us."

Of course, the best part of the event was the new friends in Christ that we developed. I'm sure that we'll see them again for next year's hunt - along with new friends!

www.campokoboji.org

---
Nebraska, Omaha: The "Feed" - an annual event
November 6, 2009 - November 6, 2009
Host Church: King of Kings Lutheran Church
On Friday, November 6, 2009, several hundred men gathered at King of Kings Lutheran Church, as Band of Brothers Omaha (www.bandofbrothersomaha.com) put on its annual "The Feed" event. This year, the theme was "The Feed-Fully Armed", as the speaker for the event (Gus Gustafson) has a ministry that can be found at www.fullyarmed.com

There were more than 20 different kinds of chili, with some fabulous winners in the "sweating hot" category, the mild category and the overall best chili. Guys had a blast playing pool, Wii, Xbox, ping pong, air hockey and hanging out. We also had The Edge band lead us in some great manly worship. Gus Gustafson gave a great talk to the men about turning a setback into a comeback. His testimony about the loss of his right arm and how he, through God's grace, has overcome challenges was inspirational. Free antacid and pepto bizmo was available for those that needed it!!


http://www.bandofbrothersomaha.com

---
October 24, 2009 - October 25, 2009
Host Church: Lutheran Church of the Good Shepherd
The Men's Prayer Group of The Lutheran Church of the Good Shepherd located in Olney, MD, held its annual Fall Retreat. Nine men attended the Retreat. The theme this year was "A Man and His Toys." During the Retreat, we used the videos and study guide created by the Lutheran Men's Ministry.

Here are some of the pictures of the event. As you can see, we had good discussions, good fellowship and good food. We even found time to study God's words and plans for us. Our Retreat was held at beautiful Camp Wabanna in Edgewater, MD. I believe this was our 3rd Retreat at Camp Wabanna.

.

---
Michigan, St. Joseph: Islam Bible Study
September 26, 2009 - October 24, 2009
Host Church: Trinity
With great materials, this class was well received. Class guides were Mike Hansen (Trinity, St. Jospeh), Fred Pieplow and Jerry Malinksy (Christ Lutheran, Stevensville)
1

---
Michigan, St. Joesph: LLL Retreat
September 11, 2009 - September 13, 2009
Host Church: Trinity Lutheran Church
Bruce Wurdeman was the featured speaker at the LLL Retreat at Camp Arcadia where 72 golfers had a golf scramble.
1

---
Missouri, St. Peters: Tree Cutting
August 2, 2009 - August 2, 2009
Host Church: Child of God
A local single woman had a tree fall on her fence. The city is threatening her with fines if she doesn't remove it. We will cut it up and haul it away - chain saws and pick-ups needed.
http://www.childofgodchurch.org

---
Maryland, Olney: Swim and Picnic Party
July 25, 2009 - July 25, 2009
Host Church: Lutheran Church of the Good Shepherd
The Men's Prayer Group of The Lutheran Church of the Good Shepherd in Olney, MD, held its annual Swim and Picnic Party this past Sunday. We had about 25 people attend. this was a family event and everyone seemed to enjoy the afternoon. Like good Lutherans, we also had lots of good food.
11

---
Nebraska, Omaha: 4th Annual Peak Challenge
July 23, 2009 - July 27, 2009
Host Church: King of Kings
From a literal perspective, this has been the experience for many men that have made the trek over the last four years on Peak Challenge. This July, 90 men made that journey out to Colorado to face physical challenges in hiking 14,000 foot peaks. They were spiritually challenged through God's Word that was shared out there and through the use of the Wild Goose Chase book that they read. They had an opportunity for four days to deeply reflect on what unique calling the Holy Spirit has for them. These men had so much fun, got out of their normal cage of routines and saw their faith journey in a whole new light. Being in the mountains for several days with other men that are chasing after the heart of God is powerful… because God uses such an experience to ignite a fire in our bones.

This year, men from churches across the Omaha and Kansas City areas united as a "Band of Brothers" in Colorado. Some hiked six 14,000 foot peaks in two days. Others went whitewater rafting on the Arkansas or mountain biking on the Breckenridge ski trails. All of them heard the Gospel message every night and were challenged to listen to the Holy Spirit and the calling that God has for their lives. There are an amazing amount of God breathed stories that have come out of this experience.

There are great things in store for the 5th Annual Peak Challenge in 2010.

If you or your men are interested, please contact us at bandofbrothersomaha@gmail.com or visit us online at www.bandofbrothersomaha.com

www.bandofbrothersomaha.com

---
California, Ontario: True Men in the Mountains Advance
June 25, 2009 - June 28, 2009
Host Church: Redeemer Lutheran Church
Men gathered from southern California and Colorado to camp, hike, and rock climb at the True Men Mountain Advance June 25-28, 2009. All the action took place at Malibu Creek State Park in Calabasas, California. The days were gloriously sunny, the nights clear and cool. Our discussions and devotions were about talking to and hearing from God.

We learned a lot about "being still" and listening to God. The rock climbing was led by Craig and Cyndi DeMartino from Colorado. If you would like to know more about future True Men Advances and True Men Ministries, sign up for the newsletter at http://www.truemen.org/newsletter.html

You can follow True Men Ministries on Twitter http://twitter.com/TrueMen

www.truemen.org/mountains.html

---
Nebraska, Omaha: 3rd Annual Band of Brothers Omaha Car and Bike Show
June 21, 2009 - June 21, 2009
Host Church: King of Kings Lutheran Church
On June 21, 2009 , Band of Brothers Omaha, the ministry to men at King of Kings Lutheran Church, sponsored its Third Annual "Rev'd Up" Car and Bike Show. Not only did those that worshipped at King of Kings get to hear a message about Band of Brothers Omaha and be blessed by a three generation prayer by a son/father/grandfather, but they also got to see a lot of classic cars and bikes. There were rows and rows of cars and motorcycles shown by people from all over the region. More than a thousand people walked through the show and we were honored and blessed to have LCMS President Gerald Kieschnick in attendance that day. Donations went to support Release Ministries, a local prison ministry in Omaha.
http://www.bandofbrothersomaha.com

---
Minnesota, Mankato: Fishin' with Christians
June 14, 2009 - June 14, 2009
Host Church: Hosanna Lutheran Church
June 14th at 2:00pm 40 people gathered together to go "Fishin' with Christians" from Hosanna Lutheran Church in Mankato MN. Kids and some parents boarded fishing and pontoon boats of Hosanna's disciple's for a couple hours fishing. The boat owner taught the kids and parents how to set up their fishing rods, bait their hooks, and reel their catch in. After a nice couple hours out on the lake, everyone returned to a disciple's home where food was served and stories were told. This was a first time event for Hosanna's disciple's and was so warmly welcomed that later this year they are planning to take senior citizens and disabled people out of an afternoon of Fishin' with Christians. This all came about because some men who loved to fish and love Jesus wanted to give something back to the next generation. They wanted to share what they believe God has given them as a great gift of relaxation in fishing.


hosannamankato.com

---
Nebraska, Omaha: 12th Annual Father/Daughter Dance
May 1, 2009 - May 1, 2009
Host Church: King of Kings Lutheran Church
Band of Brothers Omaha had a great turnout for its 12th Annual Father/Daughter Dance. This year, many fathers from all over the Omaha area took their daughter(s) (age 4-14) to this event om May 1, 2009.

This event as always was a fun evening of dancing, snacks, crafts and some great photographers to take pictures of dads and daughters. It was a great opportunity to teach your daughter(s) about dating before they actually start. It was a special time to show how God's men treat their daughters, raise them and prepare them for life. These young ladies will remember this event forever.

Every year, Band of Brothers Omaha does a different theme. This year, the theme is "Under the Sea".

Men, this event continues to be a HUGE blessing. We had almost 300 men and daughters in 2009!

http://www.bandofbrothersomaha.com

---
Maryland, Olney: Men's Prayer Group Servant Event
April 25, 2009 - April 25, 2009
Host Church: The Lutheran Church of the Good Shepherd
On April 25, the Men's Prayer Group of the Lutheran Church of the Good Shepherd in Olney, Maryland, held its annual Servant Event. This year we continued working at the Compassion Care Center in Annapolis, Maryland. This Lutheran Missionary Society Center is a thrift shop and allows many people access to very low cost items.

We had 10 men participate, 9 from LCGS plus one from Calvary Lutheran Church in Silver Spring. We completed the interior renovation of the back room, tree trimming, and painting the railing and 99% of the gutter and roof work.

To finish this project, we only need to install 2 down spouts which will be done soon. A security camera was also installed.

The pictures above were taken of our efforts. Easter blessings to you.

http://www.olneygoodshepherd.org

---
Nebraska, Omaha: Red/White Game '09
April 18, 2009 - April 18, 2009
Host Church: King of Kings Church
Just wanted to share some pics and a quick summary of the Conquest 2009 event held in Lincoln, Nebraska on April 18, 2009 in conjunction with the Nebraska Cornhuskers spring football game.

Conquest 2009 was an event that encouraged men and their sons to come and proclaim the name of Jesus Christ and to lead their families, their workplaces and their homes in the name of Christ. There were 5,000 men and their sons that were in attendance that day. Band of Brothers Omaha had more than 75 of its men and their sons in attendance. Husker notables such as Coach Tom Osborne, Assistant Coach Ron Brown and current and former players challenged the men in a morning and afternoon event.

These 5,000 men then walked from the Pershing Auditorium to Memorial Stadium for the football game, all with black "Conquest 2009" shirts on. We all sat together in the North end zone and it was a great witness to have people ask "who are those guys?" and "why is the North end zone wearing all black?" Lots of opportunities to share about Jesus that day to more than 77,000 people that filled the stadium to watch a spring practice! Even if you are not a Husker fan, it was a great day for the Lord!

http://www.bandofbrothersomaha.com

---
Texas, Boerne: Tapatio Springs - Men's NetWork International Retreat
March 19, 2009 - March 22, 2009
Host Church: Lutheran Hour Ministries
Fifty-six golfers from around the country (and Canada) attended the recent Men's NetWork retreat in Boerne, Texas. Steve Misch presented the new "Out of Nothing" Bible study, Don Wharton provided music, and men enjoyed 3 rounds of golf, fellowship, fun, and a Sunday morning golf cart worship service. Check out what a great time everyone had!
www.lhmmen.com

---
Manitoba, Winnipeg: GPS Promise Keepers
March 13, 2009 - March 14, 2009
Host Church: Church of the Rock
One of the photos shows the 2000 men from all over Manitoba along with some of us from Saskatchewan who experienced the love of Christ and fellowship with Men. A second photo is one of our favorite well known Worhip Leaders. The third shows the group that travelled to the event.

We here in Regina hold a similar event in which about 800 Men are involved in the month of November.

www.redroof.tv

---
Minnesota, Henning: Men's Retreat
February 21, 2009 - February 22, 2009
Host Church: Lutheran Island Camp
One hundred men came together from Iowa, South Dakota, North Dakota and Minnesota the weekend of February 20th, 2009 for the 15th annual Men's Retreat at Lutheran Island Camp at Henning Minnesota. The theme for this year's retreat was, "A Man of God, the Foundation." Studies were based on the Epistle to the Ephesians. The weekend activities included: Bible study, fellowship, worship, recreation including an ongoing broom ball match on East Battle Lake, and so much more. Plans are underway for the 16th annual retreat, the same weekend in 2010. Watch the Men's Network for more information this summer.

www.islandcamp.org

---
February 20, 2009 - February 20, 2009
Host Church: King of Kings Lutheran Church
More than 220 men from Omaha, Lincoln, Sioux City and other locales in Nebraska and Iowa gathered together to eat more than 2,300 wings donated by seven different restaurants in Omaha. We played pool, Xbox, Wii, Guitar Hero, ping pong, air hockey and more during the night and got a chance to hang out with men. Assistant Football Coach Ron Brown of the Nebraska Cornhuskers gave a challenging talk to men to be the spiritual leaders in their homes, their work and their communities. What a great night!

http://www.bandofbrothersomaha.com

---
Florida, Lake City: Men's Ministry Fish Fry
November 7, 2008 - November 7, 2008
Host Church: Our Redeemer
These Fish Fry photos were taken on November 7, 2008. Joe Regnier, LHM Ministry Advancement, was a guest brother and helped spread the Gospel, fried fish and served meals-to-go. We served a total of 83 meals at $6 each. Plus, most important, we distributed about a dozen ESV soft cover Bibles!

Check out our "How To Host a Fish Fry" on the LHMMEN's "How To" page!!!

none

---
Texas, Boerne: Tapatio Golf Retreat
October 30, 2008 - November 1, 2008
Host Church: Texas District LCMS and Lutheran Hour Ministries
The "test phase" of the Men's NetWork included a golf retreat at Tapatio Springs Golf Resort in Boerne, TX, where 40 men got together for golf, fun and fellowship. A Sunday "Golf Cart" morning service was included.

Don't miss out on the chance to participate in the second golf retreat in March of 2009! Click here for more information.
www.lhmmen.com

---
Missouri, Harvester: Sixth Annual Men's T-3 (Talk, Tackle, Tees) Retreat
October 10, 2008 - October 12, 2008
Host Church: Zion Lutheran Church
The Sixth Annual Men's T-3 (Talk, Tackle, Tees) Retreat was held October 10-12, 2008 at Mark Twain State Park. This retreat was hosted by the Men's Ministries of Chapel of the Cross, Child of God, St. John's Holy Cross, Peace and Zion Lutheran Churches.
www.zionharvester.org

---
Newest Men's NetWork Groups:
Online Adult Bible Study
RIVERVIEW, MI
Ornahnita
Shekhupura, VT
Wednesday Men's Group
Evansville, IN
view all groups
---