Daily Devotions from Lutheran Hour Ministries
"Following Him"
July 16, 2010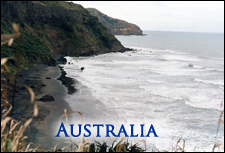 (Jesus said) "Come, follow Me." Mark 1:17a


Dear Brothers and Sisters in Christ:

The salvation story of Jesus Christ reaches around the world. So that the readers of our Daily Devotion may see the power of the Savior on a global scale, we have asked the volunteers of our International Ministry Centers to write our Friday devotions. We pray that the Spirit may touch your day through their words.

In Christ, I remain, His servant and yours,
Kenneth R. Klaus
Speaker of The Lutheran Hour



"Come, follow Me"-such a simple directive, such a life-changing invitation.

While Jesus walked this earth, His life was an expression of love and service to the Father. The disciples, in turn, learned from His example. They saw Him heal those who were gravely ill. They saw Him perform miracles with the ordinary things of life-water to wine, multiplying loaves of bread and fish. They saw Him command nature-and it obeyed. They saw Him raise the dead. And they saw Him love His enemies-to the bitter end.

What did Jesus mean for us when He said, "follow Me"? Well, it means nothing less than to do what Jesus said to do: "Love your enemies, do good to those who hate you, bless those who curse you, pray for those who mistreat you" (Luke 6:27b-28).

While Jesus' words are straightforward enough, their application in our lives is nothing less than revolutionary. Think about it for a moment. Who really does those things-loving their enemies, doing good to those who hate them, blessing those who curse them, praying for those who mistreat them?

These are challenging and difficult words that require action from us. That is certainly the sacrificial love Jesus showed you and me. When Jesus encountered those who mocked Him, ridiculed Him, beat Him, spit on Him, kicked Him, punched Him, whipped Him, and thrust Him against a stark wooden cross to begin the spectacle of crucifixion, He loved them.

"Come, follow Me," Jesus says to those who would take up the cross of faith and servitude to seek after Him.

And what an honor to know Jesus extends that invitation to each of us! For those who know by faith that Jesus' life, death, and resurrection have conquered their sins and defeated the father of lies, Satan, the eager response must be "Yes, Lord, we will follow You."

THE PRAYER: Heavenly Father, help us follow Jesus. He alone is the hope of the world, and by following Him, we can show others the love He has for us. In Jesus Name, we pray. Amen.

Biography of Author: This devotion is based on a text written by Matthew Glowacki. He assists Lutheran Media Ministry, a ministry partner with Lutheran Hour Ministries in Australia. For nearly 60 years, LMM has broadcasted the Gospel message over television, radio and, more recently, the Internet. Also available through LMM are Project Connect booklets dealing with topics such as family and relationships, life issues, and spiritual matters.


To learn more about our International Ministries, click here or visit www.lhmint.org.