---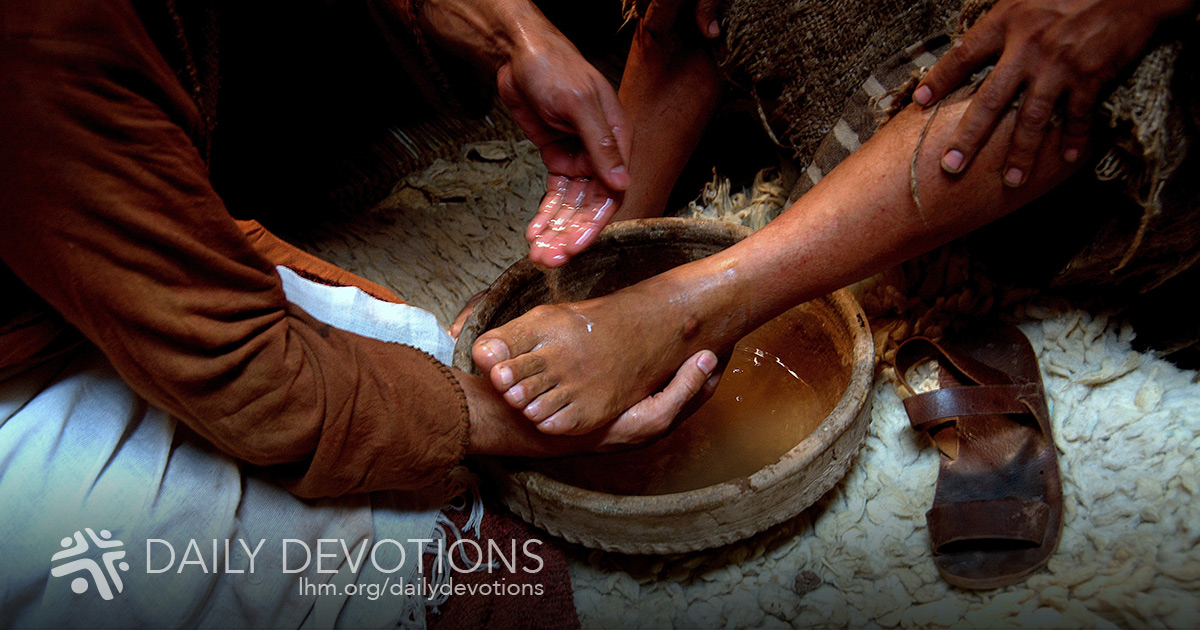 Exodus 3:1-6 - Now Moses was keeping the flock of his father-in-law, Jethro, the priest of Midian, and he led his flock to the west side of the wilderness and came to Horeb, the mountain of God. And the angel of the LORD appeared to him in a flame of fire out of the midst of a bush. He looked, and behold, the bush was burning, yet it was not consumed. And Moses said, "I will turn aside to see this great sight, why the bush is not burned." When the LORD saw that he turned aside to see, God called to him out of the bush, "Moses, Moses!" And he said, "Here I am." Then he said, "Do not come near; take your sandals off your feet, for the place on which you are standing is holy ground." And he said, "I am the God of your father, the God of Abraham, the God of Isaac, and the God of Jacob." And Moses hid his face, for he was afraid to look at God.
This devotion pairs with this weekend's Lutheran Hour sermon, which can be found at lutheranhour.org.

At the front of our house is a shrub with the formal name, Euonymus Alatus ("Winged Euonymus"), and otherwise known simply as a Burning Bush. The shrub can reach eight feet tall or more. Its appeal is in its fire-engine red foliage every fall. It blazes over every other planting on our landscape, demanding attention and wowing its onlookers by its beauty.

As bright and beautiful as the Winged Euonymus shrub can be, it cannot compare with the original burning bush that got the attention of Moses when he was eighty years old. He came to the burning bush at the age of 80 with two chapters of his life complete, first as a prince, then as a shepherd in Midian. There can be moments of adventure in shepherding sheep, but not many. It was pretty much "same old, same old" every day.

I think we know about that, a life, let's say, that is less than adventurous. Sometimes I think that our generation must look like disengaged people in a waiting room, killing time with their phones in hand. At least Moses turned to see the burning bush. Were such a bush to come to us, we may not look up long enough to notice it.

Nineteenth-century Danish theologian and philosopher Soren Kierkegaard was 30 years old when he wrote his master work, Either/Or. He wrote extensively about his personal struggle with boredom. He called boredom "the root of all evil." He saw a society tamed and bored. He saw the church of his day tamed and bored. For Kierkegaard, boredom was not life without stimulation but life without meaning. He would find his adventure and his meaning in his Christian faith. We can do the same.

At Mount Horeb, Moses moved from shepherding a herd of sheep to leading millions of slaves to freedom. It was a God-interrupted moment. Moses objected at first but then met his holy calling. It would become the adventure of his lifetime. He would lead his people to the edge of the Promised Land!

The God who called Moses to take off his sandals and pick up a mission is the same God who meets us in all the "burning bushes" of our lives. These are those beautiful moments that spur us on in our walk of faith. God comes to us hidden in the wise, challenging words of a Christian friend, in the reading of a Scripture text, in the meal of bread and wine, in the remembrance of our Baptism.

Jesus Christ, who is our life, did not come to give us a boring life. He lived, and died, and came to life again to give us an abundant life, filled with meaning and adventure. So listen for His voice, and when you hear it, turn to it, and, by all means, take off your shoes. In humility let God's words sink in. Give it time. Then, put your shoes on and live.

WE PRAY: Lord, rescue me from a boredom that drains my life of meaning. Speak to me. Humble me. Get through to me. Turn me outside myself to a mission that I can fulfill as Your servant. Amen.

This Daily Devotion was written by Dr. Dean Nadasdy

Reflection Questions:

1. What keeps you from a deeper relationship with the Lord?

2. What events in your past qualify as burning-bush-take-off-your-shoes moments?

3. Where do you see opportunities for adventure in your walk as a follower of Jesus Christ?

Today's Bible Readings: Jeremiah 34, 37-38 Hebrews 10:1-18
To Download Devotion MP3 to your computer, right click here and select "Save Link As" or "Save Target As" or "Download Linked File As"