"Jesus Christ, My Sure Defense"
---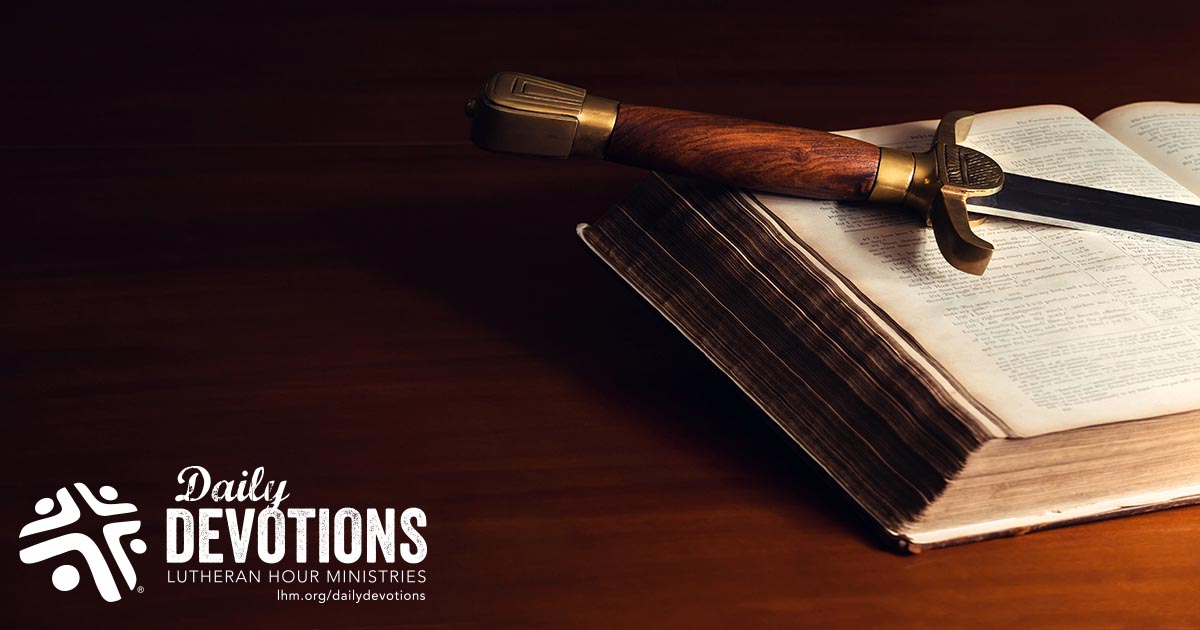 "Jesus Christ, my sure defense and my Savior, now is living! Knowing this, my confidence rests upon the hope here giving, Though the night of death be fraught still with many an anxious thought.

"Laugh to scorn the gloomy grave and at death no longer tremble; He, the Lord, who came to save will at last His own assemble. They will go their Lord to meet, treading death beneath their feet."

Our hymn joins two very different ideas: "My confidence rests upon ... hope." We usually think of confidence as something strong and sure, the absolute knowledge that events will unfold as they should. Confidence leaves no room for doubt. Hope is somewhat less substantial. We "hope" that an event will happen, but we don't know for certain that it will. That for which we hope may come to pass, or it might not. Yet according to our hymn, our confidence rests on a solid foundation of hope!

In other contrasting ideas, we "laugh to scorn the gloomy grave." We know that death is no laughing matter, and the hymn admits that the approach of death is filled "with many an anxious thought." Still, in confident hope, we laugh at the gloomy grave and no longer tremble at death. We also see in the hymn that death is not so final as the world imagines it to be. Jesus will return and "at last His own assemble." Believers who have already died will rise from death to join those who are still living, and together they will "go their Lord to meet." This reflects what the apostle Paul says concerning the Last Day: "The dead in Christ will rise first. Then we who are alive, who are left, will be caught up together with them in the clouds to meet the Lord in the air, and so we will always be with the Lord" (1 Thessalonians 4:16b-17).

Why are we so confident in hope? Jesus, the Source of our hope, suffered and died to atone for the sins of the world. His dead body was taken down from the cross and sealed in a tomb. Then, on the third day after His death, in the most astonishing contrast of all, Jesus rose from the dead. Christ the Crucified "now is living!" Paul writes that God "has caused us to be born again to a living hope through the resurrection of Jesus Christ from the dead" (1 Peter 1:3b). We do not have a "dead" hope, believing in something that may or may not happen. We have a living hope, in life and even in the face of death, because our Lord endured death for us and now is living. We have His sure and certain promise: "Because I live, you also will live" (John 14:19b). When Jesus returns on the Last Day, we will rise as He did and go to meet Him, treading death beneath our feet!

WE PRAY: Jesus, You are my hope in life and death. Amen.

This Daily Devotion was written by Dr. Carol Geisler. It is based on the hymn "Jesus Christ, My Sure Defense," which is number 741 in the Lutheran Service Book.

Reflection Questions:

1. What kinds of things cross your mind when you ponder death?

2. How does Jesus' resurrection give us a "living hope"?

3. Does knowing that because Jesus lives "you also will live" impact your life now?

Today's Bible Readings: Proverbs 25-26 Acts 4:23-37
To Download Devotion MP3 to your computer, right click here and select "Save Link As" or "Save Target As" or "Download Linked File As"