"Restored to Life"
---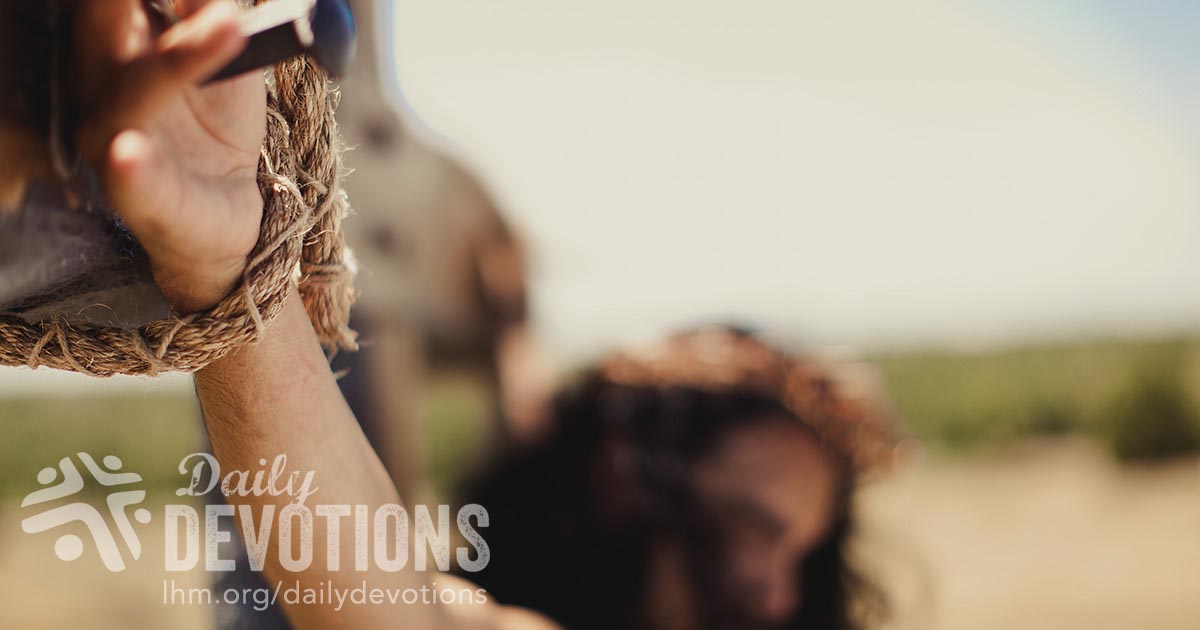 Psalm 30:1-3 - I will extol You, O LORD, for You have drawn me up and have not let my foes rejoice over me. O LORD my God, I cried to You for help, and You have healed me. O LORD, You have brought up my soul from Sheol; You restored me to life from among those who go down to the pit.
This is a prayer from the psalms that Jesus could have prayed on the first Easter morning (although Scripture does not tell us that He did so). The psalmist cried to God for help, and from the cross Jesus too cried out, calling to His Heavenly Father in the words of another psalm, "My God, My God, why have You forsaken Me?" (Psalm 22:1a). No help came as Jesus was abandoned to the suffering and death of the cross for the sake of our salvation. The Lord's body was taken down from the cross and sealed in a tomb. Then, on the third day after His death, Jesus was raised to life, brought up from the Sheol, the place of the dead. The victorious Savior was restored to life from the pit of death. His bloodied, beaten body was healed, although He still bore the scars of His suffering and death. The marks of the nails in His hands and feet and the scar in His side from the spear proved His identity as the crucified and risen Son of God. His prayer from the cross was answered. Jesus was drawn up from death, and His foes could no longer rejoice over Him. The One forsaken was now raised in glorious victory!

This psalm is our prayer, too. We cry for help, and the Lord heals us with the forgiveness that Jesus earned for us on the cross. "He Himself bore our sins in His body on the tree, that we might die to sin and live to righteousness. By His wounds you have been healed" (1 Peter 2:24). Even when our cries for help seem to be met with silence, God is at work to help and save us. Satan, the evil foe, cannot rejoice over us. We are forgiven in Christ, and the foe can no longer overcome us with his accusations and fear because "now the salvation and the power and the kingdom of our God and the authority of His Christ have come, for the accuser of our brothers has been thrown down" (Revelation 12:10b). We have been drawn up from the baptismal waters, buried with Jesus, and raised to walk in newness of life.

One day we too will die an earthly death. We will be buried as our Lord was buried, but like Him, we will rise, restored from the pit of death, when He returns on the Last Day. Free from all sin, pain, and sorrow, we will live forever in the presence of our Lord, who for our sake endured death and grave, who hears our cries for help, and heals and restores us.

WE PRAY: Victorious Lord, You have heard my prayers and healed me with Your forgiveness. Amen.

This Daily Devotion was written by Dr. Carol Geisler.

Reflection Questions:

1. How did you celebrate Easter this year—in church, an online service, gathering with your family?

2. Are there things in your life that accuse or condemn you? Do you realize God has overcome those things?

3. How does God heal and restore our lives from the inside out?

Today's Bible Readings: 1 Samuel 7-9 Luke 18:24-43
To Download Devotion MP3 to your computer, right click here and select "Save Link As" or "Save Target As" or "Download Linked File As"