"Lord, Open Now My Heart to Hear"
---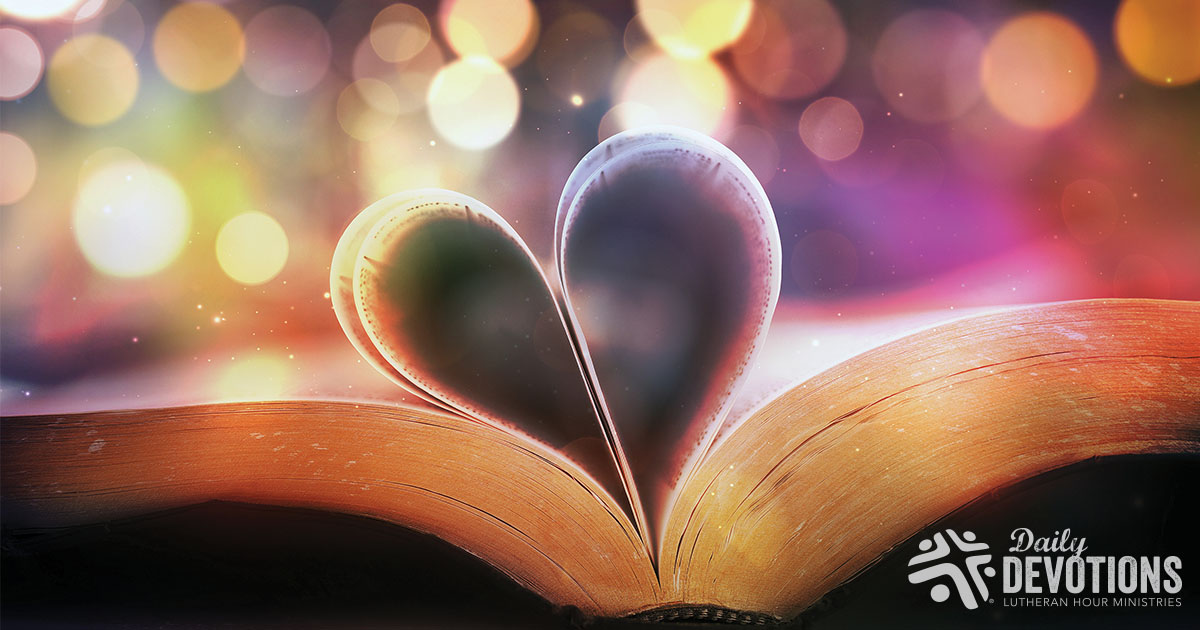 "Lord, open now my heart to hear, And through Your Word to me draw near; Let me Your Word e'er pure retain; Let me Your child and heir remain.

"Your Word inspires my heart within; Your Word grants healing from my sin; Your Word has pow'r to guide and bless; Your Word brings peace and happiness."

"Sticks and stones may break my bones, but names can never hurt me." We know from experience that the familiar childhood saying is not entirely accurate. Without doubt, sticks and stones can cause physical harm, but name-calling can also hurt. Words can cause harm or bring joy. Words can destroy old friendships or create new relationships. God creates a relationship with us as we are born anew as His children in the water and Word of Baptism. As we grow in faith, we hear and read the Scriptures, learning about God's love and gracious promises. Through His Word, God draws near to us.

Long ago, God drew near to live among us. Jesus, God the Son, was born in Bethlehem, as the prophetic Word had long foretold. Through His suffering, death, and resurrection, Jesus fulfilled all that had been written of Him in the Scriptures. There are probably many things about our Lord that we would like to know, but the inspired Word tells us what we must know. The apostle John explains, "Now Jesus did many other signs in the presence of the disciples, which are not written in this book; but these are written so that you may believe that Jesus is the Christ, the Son of God, and that by believing you may have life in His Name" (John 20:30-31).

We know and believe the revealed truth of our Lord's life, death, and resurrection, but we may face worldly philosophies that deny God's Word and regard with disdain the eyewitness accounts of Scripture. In our hymn we pray that we would retain the pure Word. Scripture does not offer empty words or the "feel-good" messages of a self-help book. The pure, Spirit-inspired Word is "living and active, sharper than any two-edged sword," (Hebrews 4:12b). The living and active Word inspires our hearts to love and worship God. The Word grants healing and peace through the forgiveness of sins and the comfort of God's promises in Christ Jesus.

A woman named Lydia heard the apostle Paul proclaim the Gospel, and "the Lord opened her heart to pay attention to what was said" (Acts 16:14b). The disciples on the road to Emmaus listened to the risen Lord explain all that was foretold of Him as "He opened their minds to understand the Scriptures" (Luke 24:45). As the Lord opened the hearts and minds of those faithful believers, we pray in our hymn that He would open our hearts and minds to His Word and that He would, through that blessed Word, draw near to us.

THE PRAYER: Lord and Savior, draw near to me through Your Word. Amen.

This Daily Devotion was written by Dr. Carol Geisler. It is based on the hymn "Lord, Open Now My Heart to Hear," which is number 908 in the Lutheran Service Book.

Reflection Questions:

1. Do you remember the sting of being called names as a child? Why do names hurt so much?

2. What other signs do you think Jesus did that didn't get written down?

3. How do you think Jesus opened the disciples' minds to understand the Scriptures?

Today's Bible Readings: Job 36-37 Matthew 15:1-20
To Download Devotion MP3 to your computer, right click here and select "Save Link As" or "Save Target As" or "Download Linked File As"