"The Reason We Boast"
---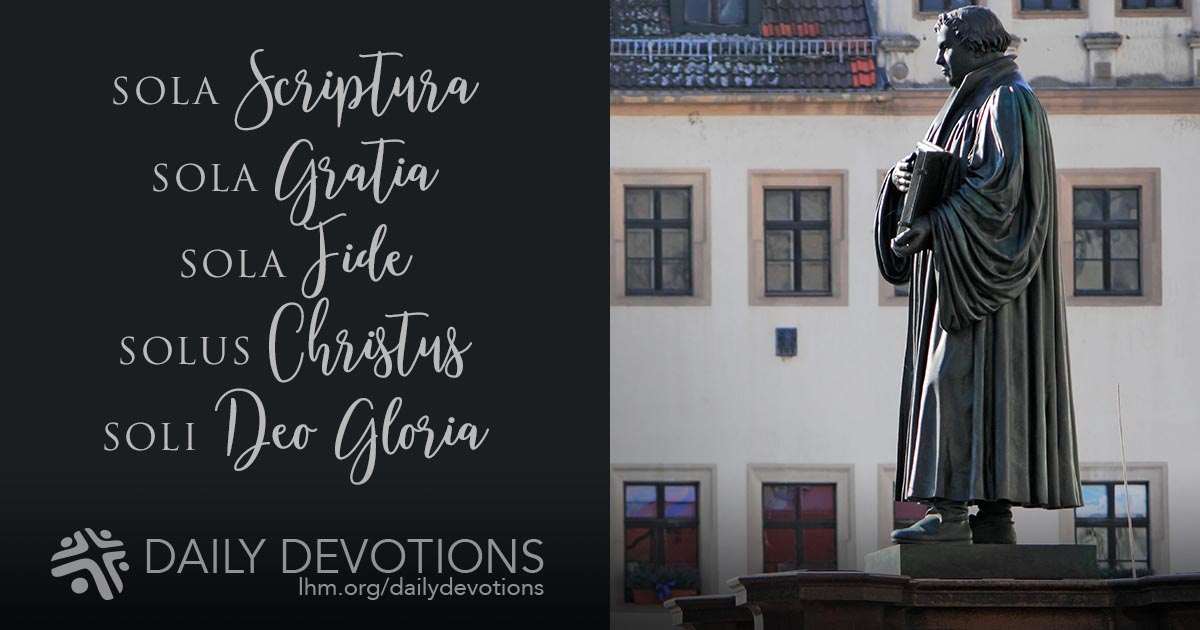 1 Corinthians 1:27-31 - But God chose the foolish things of the world to shame the wise; God chose the weak things of the world to shame the strong; God chose the lowly things of this world and the despised things of the world to nullify the things that are, so that no one can boast before Him. It is because of Him that you are in Jesus Christ, who has become for us wisdom from God, that is our righteousness, holiness, and redemption, therefore as it is written; "Let him who boasts, boast in the Lord!"
Reformation Day is a wonderful day! It's the day some 500 years ago when the German monk Martin Luther posted his 95 Theses on the door of All Saints' Church in Wittenberg, Germany. In so doing, he pointed to the power of real forgiveness in the Person and work of Jesus. Led by God's Holy Spirit, Luther came to understand that the Good News of salvation for everyone is not wishful thinking; it's not based in works that we can do, or imagine we can do. Rather, it's the grace-filled work of God in the flesh for the sake of every sinner in the world.

The spirit of the Reformation is centered on Jesus, and how He—not the institutional church, not the purchase of indulgences for bogus pardons, not performed rituals for special favors—but Jesus provides for our salvation through His life, death, and resurrection. Concerning this divine truth, Luther was willing to boast about his Savior and His message of grace alone, through faith alone, based on Scripture alone—no matter what it cost him. Why? Because he wanted people like you and me to know Jesus Christ as our Lord and Savior.

The passage in 1 Corinthians is clear. When it comes to us, there's no boasting possible. Our science, our technology, our engineering, our cumulative wisdom is always tainted by our sin, our pride, our selfish ambition. When God comes to remedy that, He is even willing to come as a Servant, through a manger, on a cross, because that's the power of God for salvation to all who believe (see Romans 1:16). And that's worth boasting about because it blesses not just the proclaimer but the listener as well.

Martin Luther knew that Jesus is the only One worthy of our boasting because He alone won the victory for each of us at Calvary. Luther boasted about that grace, and I will echo his words and boast about that grace in Jesus, too. Why? So that everyone—from the greatest to the least of us—might come to know true life and salvation in Him forever. I pray that His Gospel has been a blessing to you.

Keep the faith, and have a blessed Reformation Day.

THE PRAYER: Dear Lord Jesus, give us the confidence to trust in You, to boast in You, to live life boldly for You in all we do. Amen.

From "God Boasting," a message excerpt from Rev. Dr. Gregory Seltz, former Speaker of The Lutheran Hour

Reflection Questions:

1. What accomplishments do you take pride in?

2. How has God shamed the strong by choosing the lowly things?

3. Is it bad to boast about yourself? About someone else? What's the difference?

Today's Bible Readings: Jeremiah 50 Hebrews 6
To Download Devotion MP3 to your computer, right click here and select "Save Link As" or "Save Target As" or "Download Linked File As"