"Against Our Nature"
---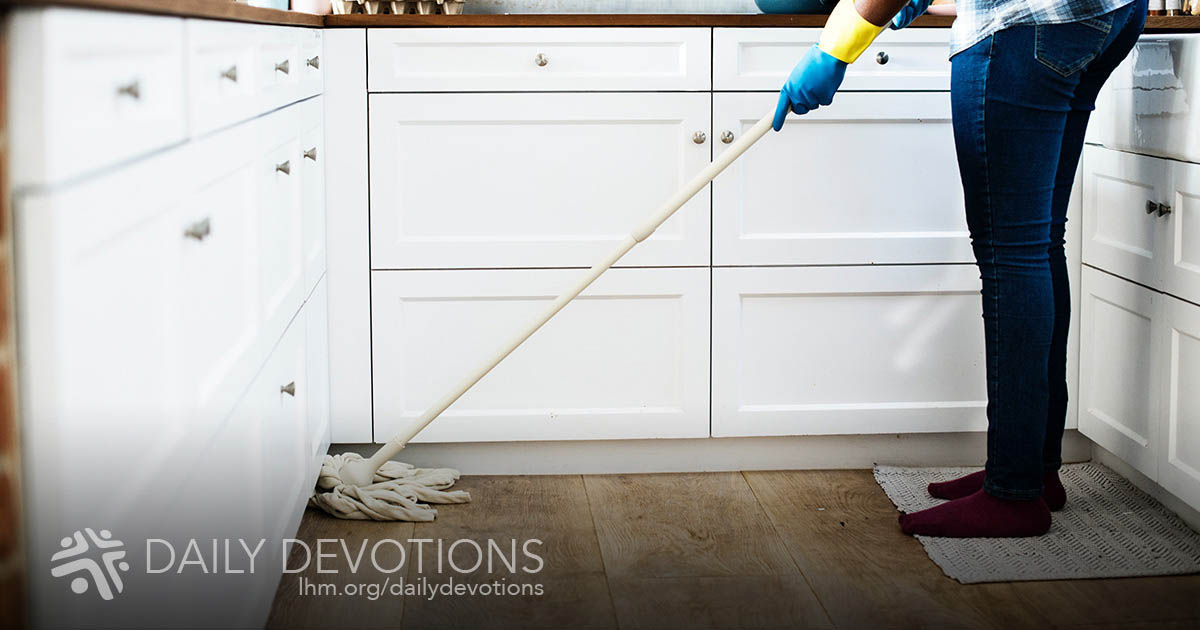 John 16:13-14 - (Jesus said) "When the Spirit of truth comes, He will guide you into all the truth, for He will not speak on His own authority, but whatever He hears He will speak, and He will declare to you the things that are to come. He will glorify Me, for He will take what is Mine and declare it to you."
There can be surprises to remodeling your kitchen.

I wasn't prepared for plaster dust on—and in—everything. I didn't count on several weeks of make-shift eating arrangements. I forgot how handy a counter could be.

My dear wife also had problems such as washing dishes in the bathtub, along with getting water for coffee or anything else, from the bathroom.

What I thought would be a simple task under the direction of competent workers with the proper tools, turned out to be a major renovation process with all sorts of left and right turns. I hadn't counted on it taking longer and costing more (as in quite a bit) than I first figured. After all, everything takes longer and costs more than first figured, right?

Old plaster walls were demolished for new ones; unsuspected electrical issues had to be brought up to speed. Piping needed an overhaul: reduction and extension pieces were required, with some couplings and elbows thrown in for good measure. A door was moved; a window was replaced. Everyday seem to bring new challenges.

At first, I was shocked. For a few days I kept asking myself, "Will this thing ever get done?" After three weeks came the resignation (nay, fortuitous resolution): I could live with the situation, support my wife, and maintain a sense of humor. Having the help of not a few friends, I must add, made the project endurable.

I'm happy to say the kitchen is nearing completion now. It'll be—dare I say it?—positively glamorous, and it will be so much more efficient and fun to operate in the new one. (As usual, my wife was right.) I'm already wondering why I resisted the project but, then again, that's my nature.

Of course, this situation is not unique to me. Many others have gone through similar circumstances. It seems to go hand-in-hand with how we frequently resist change, pushing back against new or unfamiliar ideas. We find it difficult to accept new people, new theories, new ways of doing things. We fight against that which is so often for our good.

I'm sure if it were left to us, we would resist the Good News of Jesus, our Savior, too. "No one can say they convinced me to welcome Jesus into my life," we might proudly declare. To be sure, we'd never do it ourselves; it's against our nature.

Thank God, the best thing for us is not our own doing. We can claim nothing good in ourselves. It's all been done by God; it had to be that way. We'd never seek Him on our own. The apostle Paul knew this all too well: "For by grace you have been saved through faith. And this is not your own doing; it is the gift of God, not a result of works, so that no one may boast" (Ephesians 2:8-9).

All glory to God for the Holy Spirit's work in our lives—convicting us of our sins, stirring us to repentance, bringing us to the truth, and sealing us in faith in Jesus.

Praise God for His change in our lives!

THE PRAYER: Heavenly Father, thank You for changing us, and please keep on changing us to be more like Jesus. In His Name we pray. Amen.

From The Lutheran Layman, April 1980 issue, "Resisting Change, When It's for Our Good," by Jon Suel

Reflection Questions:

1. When was the last time you got into a job that was over your head?

2. Just how does the Holy Spirit guide us into all truth?

3. Is God making changes in your life? How so?

Today's Bible Readings: 2 Chronicles 24-26 2 Corinthians 11:1-15
To Download Devotion MP3 to your computer, right click here and select "Save Link As" or "Save Target As" or "Download Linked File As"