"Let Us Ever Walk with Jesus"
---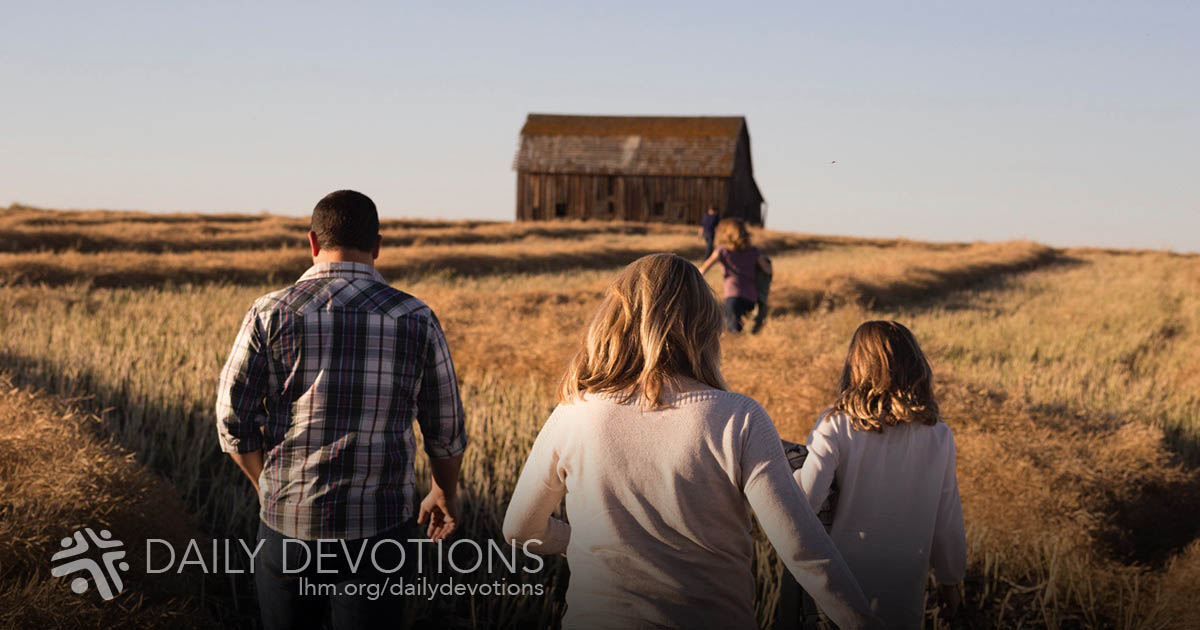 "Let us suffer here with Jesus and with patience bear our cross. Joy will follow all our sadness; where He is, there is no loss. Though today we sow no laughter, we shall reap celestial joy; All discomforts that annoy shall give way to mirth hereafter. Jesus, here I share Your woe; help me there Your joy to know."

It is a statement that you don't really want to hear from Jesus. From anyone else, you could simply dismiss the comment as the opinion of a glass-half-empty sort of person. But not if it's Jesus. What He says is the truth: "In the world you will have tribulation" (John 16:33b). In the world we have trouble; we cannot deny it. We know from experience it is true. We suffer illness, loss, and grief. We bear the shame and guilt of our sins. We are subjected to the hatred of the world because the sin-darkened world first hated our Lord (see John 15:18).

Jesus said, "If anyone would come after Me, let him deny himself and take up his cross and follow Me" (Matthew 16:24b). To follow Jesus is to follow Him in everything. We know the joy of living as children of our Heavenly Father, the peace of sins forgiven and—walking in the footsteps of Jesus—the heavy cross-weight of suffering and tribulation in this world. With compassionate love, our Lord endured the world's hatred and the suffering that was heaped upon Him. Out of love for the world, for us, He bore the weight of our sins, and "for the joy that was set before Him, endured the cross" (Hebrews 12:2b).

We bear with confidence our crosses—the tribulation of life in the world—because Jesus also said, "But take heart; I have overcome the world" (John 16:33b). That too is truth. All the world's tribulation and rage, the heavy weight of sin, was placed on Jesus and He overcame it all. His victory is our victory. In Him we overcome this world's trouble.

For now, there are "discomforts that annoy" and more serious grief and hurts that banish all laughter. Yet even now we celebrate the joy of our Lord and the nourishment of His Word and Holy Supper as we look forward to the day when, in His presence forever, we will "reap celestial joy." That's a promise, too: another truth from God.

THE PRAYER: Lord Jesus, strengthen us to endure the trouble and sorrow that this world often brings our way. Help us to focus, as You did, on the joy that is set before us. Amen. Come, Lord Jesus, come!

This Daily Devotion was written by Dr. Carol Geisler. It is based on the hymn, "Let Us Ever Walk with Jesus," which is found on page 650 of the Lutheran Service Book.

Reflection Questions:

1. As you consider your life, what seems to mark it more—sadness or joy?

2. How does Jesus having overcome the world make your life better?

3. How does your faith sustain you in difficult times?

Today's Bible Readings: Ecclesiastes 7-9 Acts 10:1-23
To Download Devotion MP3 to your computer, right click here and select "Save Link As" or "Save Target As" or "Download Linked File As"