"Second Guessing"
---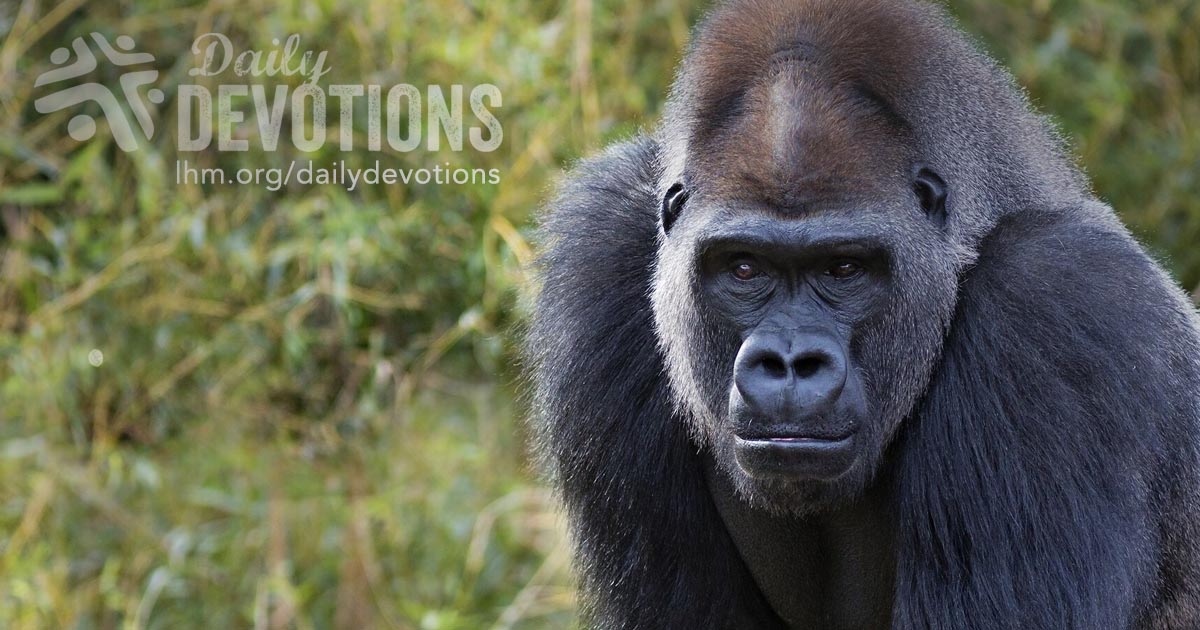 But God shows his love for us in that while we were still sinners, Christ died for us. Romans 5:8
Do you remember the name: Harambe?

Just a few weeks ago you couldn't turn on the evening news or read a newspaper without hearing his name or watching his video. In case you have forgotten, here's a bit of a refresher: Harambe was a 450-pound gorilla who had been born in Texas and moved to Cincinnati where it was hoped he would be the father of other lowland gorillas.

That dream was not to be.

That is because although the zoo celebrated Harambe's 17th birthday on a Friday, their Dangerous Animal Response Team felt they had to shoot him on Saturday. The reason for the shooting? A four-year-old boy fell into Harambe's habitat and was being handled roughly by the gorilla. The drastic action was taken because it was feared Harambe could easily, and even unintentionally, do serious damage or even kill the little boy.

Those are the facts of the story. The gorilla's life is ended, but not the second guessing which happened after the event. You've heard the discussion ...
Some said, "Why didn't they tranquilize the animal rather than shooting him?"
Some wondered, "How was it possible for the child to get into the enclosure?"
Some thought, "What kind of mother doesn't keep a closer eye on her child?"
Some added, "Maybe if people hadn't overreacted, the gorilla might have stayed calm."
Most of this second guessing is not necessarily a bad thing. If the discussions which come out of these questions bring about a zoo which is safer for the animals and those who have come to see them, it will be good.
No, when people see something that is wrong and their second guesses bring about positive changes, that can be a very good thing indeed.
Unfortunately, when sinners second-guess God, the results are never positive. You've heard those kinds of second-guessing questions, haven't you? I'm talking about when people comment ...
If God is a God of love, how can He let such terrible things happen?
If God is a God of grace, He would never send anyone to hell.
If God is a God Who is fair, why do bad things happen to good people?
All of those questions find their answers when a repentant sinner stands before the Savior's cross. There, in the suffering and death of God's Son, we see that the Lord really does care; that He really doesn't wish to punish sinners. At the cross we see that Jesus suffered the worst unfairness of all when He was punished for wrongs which He had never committed. St. Paul says it clearly, "but God shows his love for us in that while we were still sinners, Christ died for us." It was the Apostle's way of saying, "God's love has been proven and leaves no room for second guessing."
THE PRAYER:
Dear Lord, while I may second guess the wrongs of this world, please do not let me second guess Your love, grace, or commitment to save sinners such as myself. In Jesus' Name I ask it. Amen.
The story upon which this Daily Devotion is based was written by Jim Denison for Denison Forum on Truth and Culture on Wednesday, June 1, 2016. The website where the parent article can be found is: http://www.christianheadlines.com/columnists/denison-forum/should-zoo-have-killed-harambe-the-gorilla.html
In Christ I remain His servant and yours,

Today's Bible Readings: Proverbs 13-15 Acts 2:1-21
To Download Devotion MP3 to your computer, right click here and select "Save Link As" or "Save Target As" or "Download Linked File As"