"Warning Signs"
---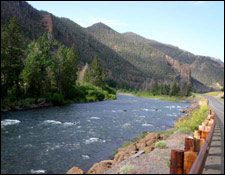 Then he brought them out and said, "Sirs, what must I do to be saved?" And they said, "Believe in the Lord Jesus, and you will be saved, you and your household." Acts 16:30-31
Among the many skills I have not mastered is the driving of a semi-truck. Indeed, I am awed when I see those knights-of-the-roads squeeze their vehicle through narrow alleys, back them into unforgiving spaces, and navigate around drivers, who are far less wise in some of the decisions they make. Yes, these drivers are a special group of men and women.

Unfortunately, 23-year-old Mary Lambright is not one of them.

Let me explain. Lambright was driving her 30-ton truck in Paoli, Indiana. The vehicle was loaded with 43,000 pounds of water and was destined for the local Wal-Mart. Everything was going well until she missed her exit.

She tried to turn around in a nearby parking lot, but was unable to do so because the lot was filled with heavy-duty machinery. Not wishing to be conquered by adversity, Lambright looked for an alternative route. That was when she remembered a lesser-traveled road she had previously driven in her pickup.

It was a pretty fine idea: an almost brilliant thought. The only flaw in the plan was a bridge:

* a bridge with a six-ton limit,

* a bridge which was clearly marked with a sign which read "No Semis,"

* a bridge which had a rather low ceiling.

It was that bridge which became Lambright's Waterloo. As she drove on to the bridge, it peeled the top of her truck like a sardine can. The damage did not continue as room was made for the truck's roof when the bridge collapsed underneath the vehicle. She escaped without injury, except that which was given to her pride ... and the police charges of "reckless operation of a tractor-trailer, disregarding a traffic control device, and driving overweight on a posted bridge."

Spiritually speaking there are a lot of folks who ignore the Lord's posted signs. He has clearly told us that if we want to be saved, we need to "believe in the Lord Jesus Christ." He has told us that salvation comes only through Holy Spirit-given faith in the Redeemer. But they ignore those warnings the Lord has given and think they can get into heaven by an alternate route. They think they are going to pass through the pearly gates fully loaded with their tractor-trailer souls full of sin.

Well, it doesn't work that way, and because it doesn't work that way, you and I need to do our best to flag them down and let them know they need to believe on the Savior for salvation.

THE PRAYER: Dear Lord, let me do my best to warn all those who are ignoring Your Word and the eternal life Jesus has won for them in His life, death and resurrection. This I ask in the Savior's Name. Amen.

In Christ I remain His servant and yours,

Today's Bible Readings: Job 28-29 Matthew 13:1-30
To Download Devotion MP3 to your computer, right click here and select "Save Link As" or "Save Target As" or "Download Linked File As"