"Good News"
---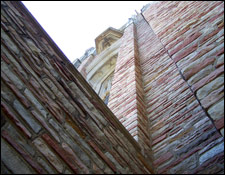 Blessed be the God and Father of our Lord Jesus Christ! According to His great mercy, He has caused us to be born again to a living hope through the resurrection of Jesus Christ from the dead, to an inheritance that is imperishable, undefiled, and unfading, kept in heaven for you, who by God's power are being guarded through faith for a salvation ready to be revealed in the last time. In this you rejoice, though now for a little while, if necessary, you have been grieved by various trials. 1 Peter 1:3-6
This week, while searching my news sources for Daily Devotion topics, I came across one website that had a number of high-priority stories. Here are the top-five headlines they listed:

1. "Pastor Attacked in Bangladesh by Muslims Who Claimed to be Interested in His Faith"

2. "Public School Choirs (in Portland, Oregon) Banned from Singing in Area Christmas Show after Atheist Group Takes Action"

3. (Wichita State) "University Removes Chapel Pews to Accommodate Muslim Students. Critics of a university's decision to make a chapel 'faith neutral' are being called 'Islamophobic'"

4. "Islamic State Threatens to Kill Christians in Syria in Video Showing Executions. The terrorist group Islamic State (IS) killed three Assyrian Christians late last month, presumably in Syria, according to an execution video released Wednesday" (October 7)

5. "Officials Defend Prayer in Public Schools in Oklahoma and Arkansas. In Oklahoma and Arkansas, effort is being taken to keep prayer a part of public school sporting events"

Looking at that list I found myself getting pretty depressed. Each of those stories tells how the Savior's message of salvation is being attacked. Some of those stories (1 and 4) speak of the physical violence being experienced by our brothers and sisters around the world. Other headline news articles explain how, in our nation, freedom of speech (2, 3 and 5) and freedom of religion (2, 5) are being challenged. I encourage you to note how, in number 3, authorities are encouraging Christians to be open and accepting by calling them names.

It's enough to make a person wonder if there is any "good news" left in this sad, sinful world.

If that's what you're thinking, then I encourage you: be at peace. The Gospel of Jesus Christ -- the story of salvation which tells of God's Son coming to earth to save us -- is still alive and well. That story, which finds its greatest fulfillment in the death and resurrection of God's Son, is still able to bring light into darkness.

The apostle Peter, speaking to Christians who were living in a time not unlike ours, wanted them to know God's mercy has given us a living hope. Because of the Savior's successes in defeating sin, death and devil, all who are brought to faith in Him are given a future which cannot be bent, folded, spindled or mutilated.

Yes, we may suffer through trials like the ones listed above, but we still have the Good News!

THE PRAYER: Dear Lord, may the Good News of the Redeemer dispel the darkness of this world and the depression and doubt that wishes to discourage me. In Jesus' Name. Amen.

In Christ I remain His servant and yours,

Today's Bible Readings: Jeremiah 7-8, 26 Acts 28
To Download Devotion MP3 to your computer, right click here and select "Save Link As" or "Save Target As" or "Download Linked File As"