"No Compromise"
---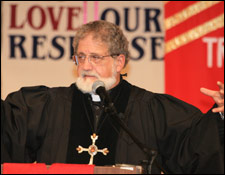 For because He himself has suffered when tempted, He is able to help those who are being tempted. Hebrews 2:18
Although I spent a number of years studying Latin, because it's a tongue-twister I'm only going to say this plant's official name once. Ready? Today's devotion is speaking about Heracleum mantegazzianum.

Thankfully, there is another less impressive name for that plant. It's also commonly called the "giant hogweed" plant. Recently, Michigan's Calhoun County Public Health Department said it had found and identified a giant hogweed right in its own county.

The hardy plant is a native of Asia and looks something like Queen Anne's Lace. It has the ability to grow up to 15 feet and produces seeds that can grow and flower long after the parent plant has been destroyed.

At this point you will be excused for asking, "Why would anyone want to destroy a giant hogweed?" Well, that's a good question, and here's a good answer: the giant hogweed has a sap that can blister or scar the skin of anybody who touches it, and that sap is found on the plant's roots, leaves, seeds and flowers. If you get a bit of that sap in your eyes it can cause temporary or permanent blindness.

That's why the Detroit Free Press has called the plant, "one of Mother Nature's nastier creations."

Now that you know the story of the giant hogweed, let me ask, what would you do if you came across one of these in a clearly labeled pot? I know you would grab your children and pull them to a very safe place. I know you would warn other people who came close, but what would you do?

I am afraid much of humanity would ignore all the warnings and, throwing caution to the wind, touch the plant. They wouldn't be able to help themselves. They would have to find out if the dangers were real ... and if the plant could negatively affect them.

Think: Adam and Eve just had to taste the forbidden fruit. King David had to check out forbidden Bathsheba, and Peter had to check out what was happening in the high priest's courtyard the night Jesus was condemned to death.

We sinful souls are pretty predictable. Tell us not to do something, and you can be pretty sure that forbidden thing is just the thing we're going to do next.

That's the way we operate but, thankfully, Jesus was the exception to the rule.

When our Savior came into this world, He did all that was asked and expected of Him. He refused to compromise with temptation and He avoided every transgression. Before His life was over, He shouldered our sins and took them to the cross, where He died the death we deserved.

By His resurrection believers are assured that forgiveness and salvation are theirs, and they can be given the power, will and desire not to play with that which is forbidden.

THE PRAYER: Dear Lord, let me follow my Savior closely and avoid the world's temptations. This I ask in Jesus' Name. Amen.

In Christ I remain His servant and yours,

Today's Bible Readings: Psalms 73, 85 1 Corinthians 11:17-34
To Download Devotion MP3 to your computer, right click here and select "Save Link As" or "Save Target As" or "Download Linked File As"