"Ignoring Evil"
---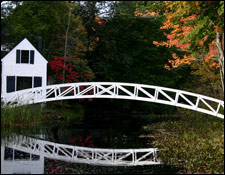 ... Let us also lay aside every weight, and sin which clings so closely, and let us run with endurance the race that is set before us, looking to Jesus, the Founder and Perfecter of our faith, who for the joy that was set before Him endured the cross, despising the shame, and is seated at the right hand of the throne of God. Hebrews 12:1b-2
The 50-year-old man walked into the Subway store in Coventry, Rhode Island.

Normally a 50-year-old man patronizing a Subway restaurant is not a newsworthy item. But this fellow is special. He is special because he was wearing a really cheap disguise. For a "hat" he had on an old t-shirt and covering much of the rest of his face was a plastic shopping bag.

The teenaged clerks on duty were not entirely surprised when he demanded they hand over the store's money. The clerks responded in a way that foiled the would-be robber.

Well, actually, it was their lack of response that ended the heist before it began.

You see, the clerks just totally ignored the fellow. Yup, didn't pay him a bit of attention -- pretended the man hadn't said a thing. They kept on working as if he wasn't even there. The video shows the would-be thief being confused and frustrated and agitated. Then, muttering something under his breath, the robber exited the store, without recognition or cash.

Now I don't know what Subway's official policy is on robberies. Even so, I think if the situation allows -- and there is no obvious weapon on display -- ignoring the thief is pretty creative.

It's certainly a path Christians might want to consider when confronted by temptation.

Now we are told in Scripture that Satan, the world, and our own sinful flesh know us pretty good. They select temptations for us we find intriguing and fascinating. More often than not, those personal invitations to sin can be pretty troubling. Before too long we may even find ourselves obsessing about those temptations as we engage in a continuous and exhausting struggle against evil.

But what might happen, I wonder, if we pulled the same stunt on our temptations as those Subway clerks did on their thief. What would happen if we simply ignored temptations?

What would be the result if we acted as if these urgings to sin weren't there and just went on living our lives?

Well, Adam and Eve wouldn't have eaten the forbidden fruit; Lot's wife wouldn't have looked back on burning Sodom; Achan wouldn't have taken the spoils from Jericho, and David would have forgotten about Bathsheba.

Truth be told, each of these folks would have been better if they had ignored temptation.

Now I'm not saying such an action would be easy. Still, by the Holy Spirit's power, we can be given the ability to focus our eyes on the Savior, turn our backs on evil's seductions and, at the very least, pretend they're not having any effect on us at all.

THE PRAYER: Dear Lord, grant us the ability to ignore temptations to do evil, and look to the Savior who calls us to a life of thanksgiving for the salvation He has won. In Jesus' Name. Amen.

In Christ I remain His servant and yours,

Today's Bible Readings: 1 Chronicles 1-3 1 Corinthians 6
To Download Devotion MP3 to your computer, right click here and select "Save Link As" or "Save Target As" or "Download Linked File As"