---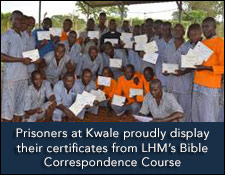 (Jesus said) "... But while he was still a long way off, his father saw him and felt compassion, and ran and embraced him and kissed him. And the son said to him, 'Father, I have sinned against heaven and before you. I am no longer worthy to be called your son.' But the father said to his servants, 'Bring quickly the best robe, and put it on him, and put a ring on his hand, and shoes on his feet. And bring the fattened calf and kill it, and let us eat and celebrate. For this my son was dead, and is alive again; he was lost, and is found.' And they began to celebrate." Luke 15:20b-24
A captive audience.

I heard of one priest in Indiana who got tired of his people leaving before the end of church. He had electric door locks installed to stop them from leaving early. The fire marshal had him remove the locks and the switch he operated from his pulpit.

But there are other kinds of captive audiences.

For example, there is Kwale Medium Security Prison in Kenya. At Kwale, men -- who have broken the law and been banished for a time from society -- find themselves true captives. They have not only lost their liberty, many of them have also lost hope.

Maybe that is why the hearts at Kwale are so ready to hear of Jesus Christ.

One pastor who works with some of the inmates at the institution has said, "Prison is the only place where you can find over 100 men listening to the Gospel (who are) in no hurry. ... This is the right place, with the right target audience, at the right time, with the right message of the Gospel of our Lord Jesus Christ."

Using movies and Bible Correspondence Courses these men behind bars are being freed by the power of the Holy Spirit.

Through studies of the Word, those who have been charged and convicted of crimes are being told they can be forgiven. They are learning that the same Savior who once set free a thief, who hung on the cross next to Him, can also free them from their sins and give them another life, a better life, a saved life in Jesus.

And does it all make a difference?

Mr. Suleiman Adam, a former Muslim who came to know his Savior while in Kwale Prison, graduated from Lutheran Hour's Bible Correspondence Course. Clutching his certificate in his hand, he said, "This is the best gift that I have received ever since I stepped in prison. Now I have (a) certificate to show to the world that my incarceration was not in vain. Our Lord Jesus Christ has turned it for my good."

In short, Adam is no longer a captive.

THE PRAYER: Dear Lord, grant that Your Gospel may be preached to all who are imprisoned by sin, the devil, and death. May the Holy Spirit forgive and set them free in Jesus. In the Savior's Name we ask it. Amen.

In Christ I remain His servant and yours,

Today's Bible Readings: Song 6-8 Acts 7:22-43
To Download Devotion MP3 to your computer, right click here and select "Save Link As" or "Save Target As" or "Download Linked File As"