"Run to, Not From"
---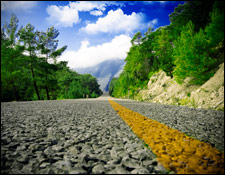 Where shall I go from Your Spirit? Or where shall I flee from Your presence? If I ascend to heaven, You are there! If I make my bed in Sheol, You are there! If I take the wings of the morning and dwell in the uttermost parts of the sea, even there Your hand shall lead me, and Your right hand shall hold me. Psalm 139:7-10
One-hundred-thousand dollars is a lot of money.

Still, $100,000 was the amount of the warrant set for Eligah Christian. And what had Christian done to generate such a sum for his arrest? Well, he was wanted on charges for scheming to defraud, 15 counts of theft, and 21 counts of issuing bad checks.

Understandably, police wanted to catch Christian, and he didn't want to get caught.

To make a long story short, an Alaskan State Trooper spotted Christian around the town of Wasilla. The officer turned on his lights and siren and began to pursue him. It wasn't difficult to keep him in sight, and it certainly wasn't considered a high-speed chase.

I say that because Christian tried to make his getaway in a motor home.

That's right. Christian was behind the wheel of a big, slow-accelerating, hard-to-wend-through-traffic-and-turns motorhome. It had to be embarrassing. In short order the highway patrol put down spike strips to blow out the motorhome's tires. Christian tried to maneuver around the spikes and brought the chase to an abrupt end when he plowed into a couple of highway patrol squad cars.

I have to tell you, when I read Christian's story and pictured him hunkered down behind the wheel of that motorhome, I laughed. I am laughing still.

It is preposterous to think you can escape the police in a motorhome.

And it is equally preposterous to think we can escape the Lord's judgment.

As the Psalmist says, "Where can I go to get away from the Lord's Spirit, and where can I flee to escape His presence?" In other verses the songster lists some of the places he might try. At the end he is forced to conclude wherever He goes the Lord is already there.

Yes, the Lord is there and for our manifold sins He is justly displeased.

Thankfully, it is not necessary for us to get away from the Lord; it is unnecessary for us to try to flee from Him. That is because we no longer are wanted criminals. Indeed, the number of transgressions for which we have to pay is now numbered at zero.

Because Jesus has carried our sins, resisted every temptation, and defeated death, all who believe on Him are forgiven and saved.

No longer should they run away from the Lord. On the contrary, because of His grace, they should eagerly run to Him in thanksgiving and appreciation.

THE PRAYER: Dear Lord, because of Jesus may I always run toward You and never away from You. This I ask in the Name of the Savior who has changed my circumstance and eternal status. Amen.

In Christ I remain His servant and yours,

Today's Bible Readings: 2 Samuel 21-22 Psalms 18 John 6:22-40
To Download Devotion MP3 to your computer, right click here and select "Save Link As" or "Save Target As" or "Download Linked File As"