"What Would You Say?"
---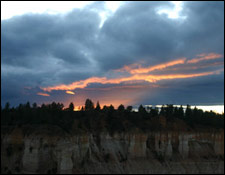 (Jesus said) "We must work the works of Him who sent Me while it is day; night is coming, when no one can work." John 9:4
Well, folks the clock is ticking, and the hour and minute hands are not running backwards.

This leads me to ask what would you say, what would be the first, foremost and final thing you would convey to your little son, daughter or grandchild if you knew they had only a short time to live? There is no question all of us would assure these little ones of our love. We would try to say, in every possible way, they are precious to us.

But then, what next?

What would you say to your spouse? What words are kind enough, affectionate enough, caring enough, to convey how much that person means to you? Yet, after those words of love are said, what then?

What would you say to your parents? How can we express our thanks to those folks who gave us life? -- who sacrificed in unseen ways for our unknown futures? -- who believed in us when no one else would or could? Certainly, we would assure them of the high esteem they would always hold in our memories.

But what then?

What would you say to your brother, your sister, your closest friends, your neighbors, your co-workers? Surely, you would try to mend fences of past angers and arguments. You might even make an offer to watch over the members of the family who would be left behind.

But is that all there is?

I know, I know. It's not a pleasant thought, but death is coming. Very few of the tens of thousands who are reading or listening to this have managed to escape moments of mourning. Fewer of you will avoid it in the future. If death comes unexpectedly to someone close to you, if accident, stroke or heart attack robs you of those last days, will not your sadness be stronger, your regrets more raw because of words unspoken and warnings undelivered?

What would you say to those close to you if you knew they had only a few more days to live?

For 2,000 years the answer to that question has continuously appeared on the agenda of God's people. When the church was healthy, it was first on the list. When the church was sickly, it dropped in importance. But always, always, those who have been saved by Jesus have been honored to hold out to a dying world the story of a living Lord.

The empty Easter tomb has given us something to say about death and, we -- by command and opportunity -- cannot remain silent about God's Son and the Good News of great joy that was born for us in a Bethlehem stable.

We are privileged to share the story of Him who has left His heavenly throne, came to this earth, and gave His life as a ransom for many (see Matthew 20:28).

It is a wonderful obligation we dare not shirk. After all, the clock is ticking ... and the hour and minute hands are not running backwards.

THE PRAYER: Dear Lord there are many things we need and ought to do. Help us always remember there is one thing that is needful: to share the Savior with a lost and dying world. Grant us the words and wisdom to do so. In Jesus' Name. Amen.

In Christ I remain His servant and yours,

Today's Bible Readings: Judges 11-12 Luke 14:25-35
To Download Devotion MP3 to your computer, right click here and select "Save Link As" or "Save Target As" or "Download Linked File As"