---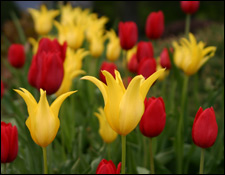 To the weak I became weak, that I might win the weak. I have become all things to all people, that by all means I might save some. I do it all for the sake of the Gospel, that I may share with them in its blessings. 1 Corinthians 9:22-23
Years ago, the starter raised his pistol to begin the 100-yard race.

People in the packed bleachers leaned forward anxiously so they might not miss any detail of the contest. The microphone amplified the announcer's words: "On your mark, get set ..." The word "go" was overshadowed by the crack of the starter's gun.

The runners came out of the starting blocks, each one of them giving it their all.

Anyone who saw the contestants taking their strides soon realized that this race was special, indeed. This race had been sponsored by the Special Olympics. At this race, all of the contestants were physically and developmentally challenged.

The concentration and commitment that registered on the runners' faces showed none of these youngsters were challenged in intent and purpose.

Look at them. Almost evenly matched, they ran the race. First, one was in the lead, then another. Never more than a step separated the leader from the remainder of the pack. The entire race ought to have continued that way. But it didn't. It didn't because, about half way through, one of the young lady runners wiped out.

She was okay, but the tough track surface had managed to scrape both her knees and her dignity.

Her fellow runners continued on, but they did so only for a few yards. Then, without any instruction, without any coach's directive, every runner stopped. Yes, all of them stopped, and all of them turned around and went back.

They helped up the girl who tripped, brushed her off and, arm in arm, they all finished the race together.

I suppose that story, as good as any, is a description of what happens when Christians share the salvation story of Jesus with others. Because of sin, we are all challenged, but because of Christ we are running our life's race with a very special purpose. No longer are we concerned only for ourselves or if we will finish the race in first place.

Somewhere along the way we have been introduced to the Savior. By God's grace we met God's Son and were given faith in Him who left heaven and came to earth to save us from sin, the devil, and death. We learned how Jesus came back to rescue us and gave His life to save us.

And ... we also learned that we had the privilege to go back and try to help others.

Like St. Paul, we as individuals, our churches, our Synods, Lutheran Hour Ministries -- willingly go back and gladly provide the assistance others need so they may also, with us, cross the final finish line successfully.

THE PRAYER: Dear Lord, accept my thanks for Your Son who came to earth so save us. Grant that all Christians may, in thanks to Him, do what is necessary so others might successfully finish the race of their lives. This I ask in Jesus' Name. Amen.

In Christ I remain His servant and yours,

Today's Bible Readings: Joshua 19-21 Luke 11:29-54
To Download Devotion MP3 to your computer, right click here and select "Save Link As" or "Save Target As" or "Download Linked File As"