"Hold On!"
---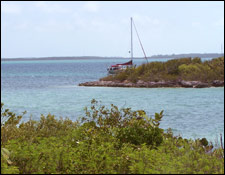 Let us draw near with a true heart in full assurance of faith, with our hearts sprinkled clean from an evil conscience and our bodies washed with pure water. Let us hold fast the confession of our hope without wavering, for He who promised is faithful. Hebrews 10:22-23
Most of us have heard the expression, "Any port in a storm."

Those words are true enough, but what happens when there is a storm, and your boat can't get to a port? Fisherman Solano Salazar can tell you what you should do. Having sailed out of Columbia, Salazar and his friend found their boat being buffeted by a sizable storm, a storm which managed to capsize their small vessel.

With no life jacket to wear, Salazar grabbed the next best thing: the Styrofoam cooler the two pals had brought on their boat in anticipation of a great catch.

Salazar held onto that cooler the day his ship went down, which was on a Friday. The rising of Saturday's sun, as well as its setting, saw Salazar clinging to that same cooler. Sunday's dawn began with Salazar clutching his Styrofoam flotation device. That was when the Columbian Navy, which was doing some drills, noticed a dark blob, bobbing among the waves.

A videographer on the Columbian ship captured the crew throwing Salazar a rescue buoy, as well as his brief hesitation before he grasps the ring and let loose of the cooler, which had saved him.

Now I might not have brought the story of the cooler to your attention if it were not for the fact that, in September, a Mexican fisherman was saved after his boat was sunk by a tropical storm. It's true. Raymundo Rodriguez managed to survive a week at sea because, as his boat was going down, he threw out his catch and climbed into, you guessed it, a giant Styrofoam cooler.

So it seems a Styrofoam cooler has the ability to save a person when he is cast into the sea.

Of course, a beach ball, a plastic bag, and a piano have the same ability. When a ship goes down there are usually many things that have the ability to float and save a soul.

On the other hand, if you want your soul to be saved from your sins, there is only one Life Preserver, and that is Jesus Christ. Yes, there are many things people think might save them, but none of them work.

Not really.

If we are to be forgiven of our sins and rescued from damnation, death and the devil, it is because the Holy Spirit has allowed us to grasp, to cling to the Person of Jesus Christ. It is He who was born into this world to offer up Himself as our ransom. It is He who carried our sins to the cross and He who defeated death with His mighty resurrection.

Now, because His work has been successfully completed, those who hold fast to Him are given eternal life.

THE PRAYER: Dear Lord, there are many people who look to many things for salvation. Sadly, they will find these things drag them down rather than hold them up. While there is still time may they see their mistake and cling to the Christ who alone can save. This I ask in Jesus' Name. Amen.

In Christ I remain His servant and yours,

Today's Bible Readings: Ezekiel 24-26 1 Peter 2
To Download Devotion MP3 to your computer, right click here and select "Save Link As" or "Save Target As" or "Download Linked File As"