"A Good Mourning"
---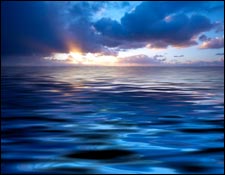 But we do not want you to be uninformed, brothers, about those who are asleep, that you may not grieve as others do who have no hope. For since we believe that Jesus died and rose again, even so, through Jesus, God will bring with Him those who have fallen asleep. 1 Thessalonians 4:13-14
It was over 35 years ago that I called upon the parents of a child who was dying.

Dad was a member of my church and had, thanks be to God, not neglected his Christian duty as a father. He had been the spiritual head of his household and all of his children knew Jesus as Savior. On the other hand, Mother had never had much use for God's Son or the sacrifice He made to save sinners.

Now, with death so close, I thought things might be different for her. Hoping the Spirit would touch her and give her a good mourning, I called on them and spoke about passages from the Bible. I began with "Blessed are they that mourn, for they shall be comforted" (Matthew 5:4). Then I spoke of other words from Holy Writ:

* I touched on the beloved 23rd Psalm: "Yea, though I walk through the valley of the shadow of death, I will fear no evil, for Thou art with me ..." (Psalm 23:4a).

* Then there was the Gospel in a nutshell, "For God so loved the world that He gave His one and only Son, that whoever believes in Him shall not perish but have eternal life" (John 3:16).

* I started to share the Savior's promise: "I am the resurrection and the life. He who believes in Me will live, even though he dies; and whoever lives and believes in Me will never die ..." (John 11: 25-26a).

The husband nodded when he heard the Bible's call to peace. In contrast the mother seemed to be in pain. Finally, this woman who had no faith, interrupted: "Go no further. I will not listen. When he dies, my son will be dead. We will go to the cemetery. We will walk away. My heart will break, and I will spend the rest of my life trying to forget him."

The passing of three and a half decades has not softened the horrible helplessness of those words. Even now I can remember how, the last time I saw her, that mother was still striving and struggling to forget her boy. For her, and others like her, every day without the Savior has a bad mourning.

But in my opening paragraphs I also talked about the father, the Christian father.

You know, that man's son had also died. Like his wife, the father attended the service at church and the committal at the cemetery. Like his wife, he was mourning, sorrowful, sad, but ....

But as St. Paul says, the father was not mourning as those who had no hope. He knew a living Lord Jesus would someday, on Judgment Day, raise his son to life (see 1 Thessalonians 4:13-14), and grant them a family reunion that would never end. For that father the words of Jesus had come true: "Blessed are they that mourn, for they shall be comforted."

His life was filled with good mournings. I pray the same may be said for all of us.

THE PRAYER: Dear Lord, death comes to all sinners. That means, sooner or later we will mourn or be mourned. Grant that I -- and all I know -- have a solid, unshakable faith in Jesus Christ who gave Himself, so we might be given a faith which cannot be toppled by death or destroyed by life. Send Your Holy Spirit upon this sad world and grant they may become people of faith and be given good mournings. In Jesus I ask it. Amen.

In Christ I remain His servant and yours,

Today's Bible Readings: Jeremiah 3-5 Acts 27:1-26
To Download Devotion MP3 to your computer, right click here and select "Save Link As" or "Save Target As" or "Download Linked File As"