"Strength in Numbers"
---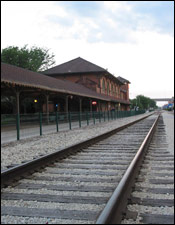 And we urge you, brothers, admonish the idle, encourage the fainthearted, help the weak, be patient with them all. See that no one repays anyone evil for evil, but always seek to do good to one another and to everyone. Rejoice always, pray without ceasing, give thanks in all circumstances; for this is the will of God in Christ Jesus for you. 1 Thessalonians 5:14-18
The man slipped while he was getting on a commuter train in Perth, Australia.

With "Murphy's Law" being what it is, I can tell you his slip occurred at the most inopportune of places: his leg went down, far down, between one of the train's cars and the edge of the platform ... and the train was about to depart.

A quick-thinking fellow passenger notified the railroad staff, which stopped the train from leaving ... but there was another train coming, and prolonged delays can be catastrophic. When normal help procedures didn't succeed in freeing the man, the railroad crew came up with an innovative idea.

They called for all of the passengers to lend a hand.

Video footage of the people's response is dramatic. Dozens of strangers came together as a team and gently, ever so gently, applied pressure to one side of the train car. They all knew that rocking the car would destroy the man's leg and too much oomph would derail the vehicle. Almost imperceptibly the car moved. Just an inch or three was enough to do the job.

The man was freed without scratch or scar and he, along with the good Samaritans, disappeared into the city.

Cool story, don't you think? I like those stories that have a happy ending. I especially like those happy-ending stories which, like this one, are applicable to the Christian life.

You see, most of us know folks who have fallen into sin, are caught and are living out their days without the Savior. Left on their own the situation is hopeless and eternal death and damnation is inevitable.

But, thanks be to God, these folks are not left on their own. The Heavenly Father, seeing their situation, sent His perfect Son, Jesus, into the world to save them. Through His life, suffering, death and resurrection, the Law has been fulfilled, their sins are forgiven, and salvation is a reality for all who are brought to faith.

This is where the Lord has asked us to help.

God has encouraged all of His people to come together and do everything they can to reach out to these lost souls. Through ministries like The Lutheran Hour, through your Synod, through your individual congregation and family, we who were once strangers come together and give the lost the helping hand which saves.

God's Word, the Savior's story, and our proclamation can make all the difference.

THE PRAYER: Dear Lord, by Your grace and the Savior's sacrifice I have been saved. Now may I, and all Christians, come together and lend a hand in the freeing of other souls. Success to these ventures I pray in the Name of my Savior, Jesus. Amen.

In Christ I remain His servant and yours,

Today's Bible Readings: 2 Chronicles 7-9 2 Corinthians 2
To Download Devotion MP3 to your computer, right click here and select "Save Link As" or "Save Target As" or "Download Linked File As"