"In Life, in Death, and in Life"
---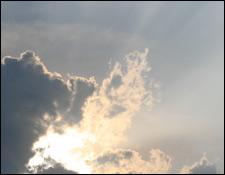 We were buried therefore with Him by baptism into death, in order that, just as Christ was raised from the dead by the glory of the Father, we too might walk in newness of life. For if we have been united with Him in a death like His, we shall certainly be united with Him in a resurrection like His. Romans 6:4-5
Navy divers James Reyher and Ryan Harris were connected to each other in life ... and now they are connected in death.

Both men were going through a diving exercise at Maryland's Aberdeen Proving Ground. Tethered together in their dive, the men found their air supplies were running out faster than had been anticipated. As they began their ascent, Reyher became entangled and was unable to proceed. A number of rescue dives were made to bring about his release. Those dives were unsuccessful and Reyher knew he was going to die. Thankfully, the rope which bound Reyher and Harris together was one which could easily be cut.

Can I tell you that no knife was ever drawn and no rope was ever cut?

Rather than slicing that rope and saving his own life, 23-year-old Ryan Harris decided to stay with his comrade... even though that would mean he would also die. Thirty-one minutes after their dive had begun, both men were dead.

When I first read that story, I could not escape thinking the narrative of these two was very much like the story of our Savior and us. Consider

* Similarity 1 - Even as only one of those divers became entangled and was doomed to die, only humanity was caught up in sin and destined to die temporally and eternally.

* Similarity 2 - Just as Harris could have remained uninvolved and let his partner die, our Savior could have stayed in heaven and ignored our futile and feeble struggles to save ourselves.

* Similarity 3 - Although it didn't make sense, Mr. Harris gave his life for his friend just as Jesus offered Himself for us.

Yes, there are many similarities between the two stories, and there are two major dissimilarities:

* Dissimilarity 1 - Unlike the Navy diver, whose rescue efforts proved to be futile, Jesus gave His life for us and with His third-day resurrection from the dead, freed us from the penalties of our manifold transgressions. Because of His actions we have now been given a new lease on life.

* Dissimilarity 2 - The story of the two Navy divers, while inspiring, is also terribly tragic. In contrast, the story of our blood-bought salvation is one that ends with God's people living "happily forever after" with their Savior.

By God's grace, and through the Holy Spirit's use of our witness, may others be set free of sin and have their souls brought to the salvation which comes through the Savior's blood.

THE PRAYER: Dear Lord, there is no logical reason why Jesus left heaven and came to live here on earth. Only through Your grace and love was He born in Bethlehem and did all that was necessary to win our soul's salvation. Now may we share His victorious life, death and resurrection with a world which, entangled in sin, still needs to be freed. This we ask in the Savior's Name. Amen.

Reach Out to Victims of ISIS Persecution in Syria and Iraq: Click here!

In Christ I remain His servant and yours,

Today's Bible Readings: 1 Chronicles 17-19 1 Corinthians 13
To Download Devotion MP3 to your computer, right click here and select "Save Link As" or "Save Target As" or "Download Linked File As"