"The Power of Confession"
---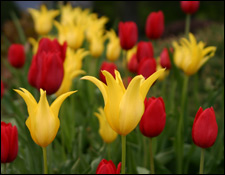 If we confess our sins, He is faithful and just to forgive us our sins and to cleanse us from all unrighteousness. If we say we have not sinned, we make Him a liar, and His Word is not in us. 1 John 1:9-10
A good many years ago The Beach Boys sang about "The Little Old Lady from Pasadena." Part of the lyrics read,

"She's gonna get a ticket now sooner or later,

'Cause she can't keep her foot off the accelerator."

Although she's from Idaho and not Pasadena, grandmother, Tana Baulmer, could easily conclude those lines were written for her. Let me explain: not so long ago Baulmer was taking her grandchildren to Yellowstone. Because of everyone's great eagerness to see "Old Faithful," she confesses, "I was booking."

Flashing red lights in her rearview mirror told Baulmer that someone else had noticed she was bookin'. That someone was State Trooper Mike Nielsen.

As the fellow with the broad-brimmed hat walked up to her car, Baulmer prepared to receive a tongue lashing. It didn't go down that way. Officer Nielsen gave stickers and a pretend, plastic police badge to the little kids. More than that, he spoke with them and was really nice to them.

It didn't take long before the frightened children were put at rest and Baulmer was on her way, with a ticket for having exceeded the posted speed by 20 mph. And how did she react to being stopped, losing time, and getting a citation? Here is her letter to the Idaho Highway Patrol:

"Recently I was on vacation with my grandchildren and was pulled over for speeding. Officer Mike Nielson made it a good experience for my grandchildren by talking with them calmly and giving them stickers. He didn't leave me out and I got my very own STICKER SHOCK. :) Thanks for a great attitude."

Appreciation for having been ticketed. That story made the news because, apparently, that kind of thing doesn't happen to police. Speaking as a pastor, I can confess I never received a "thank you" letter from people whose sins had received a "spiritual citation." About the best I ever heard was when, as people were leaving church, someone said, "Great sermon, pastor. I know a lot of people who needed to hear your condemnation of their sin."

Truly, we who are guilty ought to be grateful when the Lord (or His representatives) point out our transgressions. Yes, all of us ought to be grateful, but too often we are not. Like most folks hate it when they get caught speeding, we try to defend ourselves or deny we had done anything wrong.

That's not what the Lord wants or expects.

Our Creator, Redeemer, and Sanctifier wants us to repent of our transgressions, confess our violations, and be thankful that because of Jesus' sacrifice we have been forgiven of those sins. It is in that way He cleanses us of all our unrighteousness.

THE PRAYER: Dear Lord, I give thanks You have been merciful to me a sinner. In Jesus I give thanks and in His Name I offer up this prayer. Amen.

Reach Out to Victims of ISIS Persecution in Syria and Iraq: Click here!

In Christ I remain His servant and yours,

Today's Bible Readings: Psalms 87-88 1 Corinthians 12
To Download Devotion MP3 to your computer, right click here and select "Save Link As" or "Save Target As" or "Download Linked File As"