"No Worries?"
---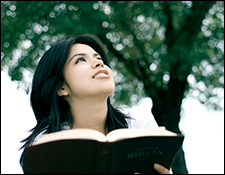 (Jesus said) "Therefore do not be anxious about tomorrow, for tomorrow will be anxious for itself. Sufficient for the day is its own trouble." Matthew 6:34
Every once in a while, when I'm scanning the stories for our Daily Devotions, I come across a major news item, which seems to have been ignored by the media. This week, in a period of five minutes, I found two such stories.

These are stories which underline the truth of the Savior's words when He said, "Each day has sufficient trouble on its own." So, before we go any further, here are those news items:

1. Iraq has admitted that ISIS (the folks who kidnap school girls and crucify terrorists because they're not crazy enough) has managed to take control of Saddam Hussein's chemical weapons facility.

If that isn't bad enough, they also have stopped by the University of Mosul and stolen 88 pounds of nuclear material, material which could be used to make weapons of mass destruction.

Authorities from the U.S., the U.N., and Iraq say, "Don't worry, the uranium hasn't been enriched ... yet."

2. The second story is just as serious. You may already know that smallpox has been wiped out and only two places in the world, one in the U.S. and one in Russia, are authorized to handle the stuff which is left.

What you probably don't know is that a lab in Bethesda, Maryland, just realized they have had six freeze-dried vials of smallpox around for decades: the most virulent strain of smallpox.

Authorities from the Center for Disease Control are assuring us: "Don't worry. The seals on the vials are intact, and we have no evidence that anyone has been exposed."

Jesus was right: we don't have to spend our time worrying about tomorrow. Right now, all around us, there is plenty to worry about. We can start worrying about terrorists with nuclear material or smallpox that can be unleashed if somebody gets a case of "butterfingers." We can worry about dying because we were attacked by a shark (that happens to 40 people a year), or because we were clunked on the noggin by a coconut (that kills150 people a year).

Yes, if we want, we can worry about many things. We can worry about big stuff, little stuff, inconsequential stuff, and guaranteed-to-happen stuff.

Or we can listen and believe the Savior who says, "Peace I leave with you; My peace I give to you. Not as the world gives do I give to you. Let not your hearts be troubled, neither let them be afraid" (John 14:27). Now I can't say what you will do, but I am confident that the Savior, who gave His life to win forgiveness and heaven for me, is not going to forget me now.

THE PRAYER: Dear Lord, when the world wants to make me afraid, may I look to You who have promised to be with and watch over me. This I ask in the Savior's Name. Amen.

All too often the job of reaching others is left to others. That can be unfortunate. After all, there are times when YOU may be the best person to reach someone who is lost or wandering. If you have always wanted to know how to do such a sharing of the Savior, you may want to attend Lutheran Hour Ministries' SENT Outreach Conference, which is July 24-27 in Detroit. For more information, visit www.lhm.org/conference.

In Christ I remain His servant and yours,

Today's Bible Readings: Psalms 1-2, 10 Acts 16:22-40
To Download Devotion MP3 to your computer, right click here and select "Save Link As" or "Save Target As" or "Download Linked File As"