"A New Heart"
---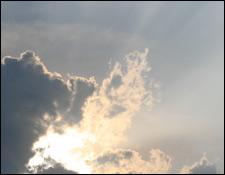 And I will give you a new heart, and a new spirit I will put within you. And I will remove the heart of stone from your flesh and give you a heart of flesh. And I will put My Spirit within you, and cause you to walk in My statutes and be careful to obey My rules. Ezekiel 36:26-27
This devotion is designed to help you remember what Jesus has done for you.

The story begins at one of my parishes, where I spent several years watching a member of my church die. She was in her early 40s, but her chronology made little difference to her bad heart. She was slowly dying because her heart simply wasn't up to the task.

Sure, the doctors gave her oxygen and various medications. Those things helped, but they never changed the fact this lady knew she was dying. She also knew she would never be there for the weddings of some of her children. She knew she would never hold her grandchildren on her lap or get to spoil them. She knew the time was going to come when she would leave her husband all alone. She wanted to talk to him about that, but she never seemed to find the right words.

Then, in a different state, a young man had an accident. For the young man there were no farewells to his family or friends. There was no time to prepare. There was an accident, and he was gone. His wife donated his organs. The lady who was dying received a phone call. She was told, "Be at the hospital in an hour. We have a tissue match. It comes from a young man. You're going to get a new heart."

The lady from my parish made it to the hospital, underwent surgery and, weeks later, returned home.

She came with a new heart in her chest and color in her cheeks. She came home and was able to move around and for the first time in years was able to get out of a chair by herself. She came home ... to a future. She came home ... because a young man had died.

As the months progressed, my lady found she had a great desire to know more about this young man whose heart was beating in her chest. She became incredibly grateful for the gift of life he had given her. How could she not? Every breath she took, every day she lived was because of a new heart.

As I said, this devotion is to help you remember.

It is to help you remember that once upon a time you were dying. You were dying, and there wasn't a thing you could do about it. No matter what advice or help you received from others, you were going to die.

Then, 2,000 years ago, God's Son was born in Bethlehem. True Man and True God, Jesus fulfilled the laws we had broken. He resisted every temptation placed before Him, and He died carrying our sins.

This devotion is to help you remember that we had done nothing -- could do nothing to change things. Our new life came to us as a gift because God's Son had died. Our new life is a gift that comes because of the Savior's willing sacrifice.

Yes, this devotion is to help you remember.

There is one last thing I would like you to recall: the proper response and right reaction to Someone giving you a new heart and a new life ought to be appreciation... overwhelming, unending appreciation.

THE PRAYER: Dear Lord Jesus, may I always remember and never forget that You lived, died and rose so I might be given a gift that will allow me to live with You forever. In Your Name I ask it. Amen.

In Christ I remain His servant and yours,

Today's Bible Readings: Psalms 12-14 John 8:28-59
To Download Devotion MP3 to your computer, right click here and select "Save Link As" or "Save Target As" or "Download Linked File As"