"Real Help"
---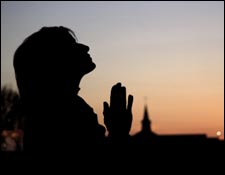 For God alone my soul waits in silence; from Him comes my salvation. He alone is my rock and my salvation, my fortress; I shall not be greatly shaken. Psalm 62:1-2
It's nice to have someone you can call on when you are in need of assistance.

That thought might have raced through the mind of Carmen Reategui as she sat in the police station in Readington Township, New Jersey. Reategui had been taken into custody after she had failed a field sobriety test administered by an officer who had seen her car swerving through traffic in an erratic manner.

Well, Reategui was in need, so she called for assistance.

Reategui contacted her friend Nina Petracca. She showed up at the police station and spoke to a patrolman about the release of her friend. During that conversation the officer noticed Petracca seemed to be "feeling no pain." A field sobriety test was given to Petracca, and she failed.

Now there were two people, both Reategui and Petracca who were in need of assistance.

They summoned that assistance by calling Ryan Hogan. Dutifully, Hogan came to the police station and, yes, you guessed it, the officer smelled liquor on him. In short order Hogan was given, and failed, his own sobriety test. This means there were three people at the jailhouse in need of assistance.

I am pleased to report a sober acquaintance was finally found, and the three friends were set free.

Now, unless I miss my guess, there is a lesson for us in the story. The moral which pops into my mind is this: it is nice to have someone you can call on when you are in need, but you need to call on the right person.

As I look around, I see troubled souls looking in many places to get help, peace, deliverance. Some trust science or education; some hope government or some philosophy might be able to provide answers to their questions. There are millions who send their prayers to a false deity and offer their petitions to a charismatic leader.

Sadly, they are looking in the wrong places. These folks can't help. They can't help because sinners can't deliver other sinners from sin. We are all in the same boat, and the boat we are in is sinking.

No, if we are going to receive help, if we are going to be free from the accusation of the Law, it is going to be because Jesus, God's sinless Son, has taken our place and received the punishment our transgressions have earned.

Those who are given faith in the Christ can rejoice because they not only have Someone they can call on in their need, they actually have Someone who can help them.

THE PRAYER: Dear Lord, I give thanks that in Jesus I have salvation; I rejoice that in my troubles I cannot be shaken. By the Holy Spirit's power may others realize that only in Jesus is there real hope and help. In the Savior's Name I ask it. Amen.

In Christ I remain His servant and yours,

Today's Bible Readings: Job 11-13 Matthew 9:18-38
To Download Devotion MP3 to your computer, right click here and select "Save Link As" or "Save Target As" or "Download Linked File As"