"In September"
---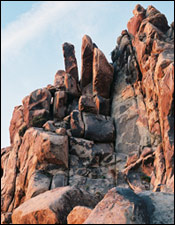 We are afflicted in every way, but not crushed; perplexed, but not driven to despair; persecuted, but not forsaken; struck down, but not destroyed; always carrying in the body the death of Jesus, so that the life of Jesus may also be manifested in our bodies. 2 Corinthians 4:8-10
In North America persecution of believers is usually subtle. Not so in the rest of the world. That's why I can tell you how, last month

* in Peshawar, Pakistan, 78 believers were killed and more than 100 were injured when a pair of suicide bombers blew themselves up at the end of the Anglican Church service;

* in the Nigerian town of Zangang, 15 Christians were murdered by gun-shooting, machete-wielding herdsmen. Other believers were wounded and hundreds of our brothers and sisters were displaced from their homes;

* in Sri Lanka, police asked some churches to close on Sunday during September because Buddhist extremists had made threats; that country has seen 45 anti-Christian incidents this year;

* in Afghanistan, a member of the parliament recommended Muslim converts to Christianity be executed to stop the growth of the faith in that nation;

* in September, a member of the Kuwaiti parliament asked that no more Christian churches be built in that country and, in Saudi Arabia, the Grand Mufti demanded all churches on the Arabian Peninsula be destroyed;

* in September, most of the 250 African migrants who drowned trying to reach Europe were Christians fleeing religious persecution.

Understand this list is neither complete nor comprehensive. The figures I have shared do not describe the heartbreak, the loss, the destruction of dreams that accompanies each of these incidents.

Unsurprised, we note that 20 centuries after Paul wrote the words of today's text, they remain true. Christians are still being hounded, hated and persecuted. Even so, they know they are not forsaken. That is because they believe the living Lord Jesus Christ is with them, the power of the Holy Spirit will continue to empower them, and the Gospel will accomplish the purpose God intends.

That explains why, in many places, these persecuted believers are asking the Lord to use their sufferings to reach those who are lost and bring them to repentance and salvation in the Savior. To that end Lutheran Hour Ministries does its best to share the Savior's story of salvation with those who believe and those who do not.

Today we also pray for our persecuted family members. We ask the Lord will continue to bless, strengthen and grant peace to those who are suffering for the Savior's sake.

THE PRAYER: Dear Lord, I give thanks I am able to worship You in freedom. Be with and strengthen those who are hated because they love Jesus. This I ask in the Name of Him who conquered hatred and death so that the world might be forgiven and saved through His resurrection. Amen.

In Christ I remain His servant and yours,

Today's Bible Readings: Jeremiah 18-19 Colossians 3
To Download Devotion MP3 to your computer, right click here and select "Save Link As" or "Save Target As" or "Download Linked File As"